Dr Henry Uniacke and Vivian and Sarah Mercer are collaborating on Ecoblog Isle of Man, a video series charting the climate challenge and the changing face of energy production and consumption. Dr Uniacke writes:
The first episodes of Ecoblog were published in July 2019 as a response to the declaration of a climate and biodiversity emergency by Tynwald.
I was struck by the vast potential of untapped 'green gold' wind reserves we had and how our imagination could be stimulated to think beyond the limiting thoughts of business-as-usual.
I also wanted to provide clarity amid the complexity of information we were being bombarded with.
It struck me we are undergoing a huge evolutionary shift at an individual and collective level. The environmental ideas and solutions were not new and felt long overdue, but society had finally tipped the balance in favour of change.
As a scientist, researching in solar energy at Cardiff University in the 1990s, I had seen words spoken by me (and those greater than me) fall on deaf ears many a time.
Those technologies continued to be refined and developed over the intervening years, entering mainstream production and, finally reaching a point where they could directly challenge the status quo of oil, the black gold that so successfully built our modern civilisations.
Oil had served its purpose and now had to concede to a new energy revolution that would serve us better.
While many of us lament the damage done to our environment and why we didn't start acting sooner, it seems to me that the evolution of technology and its economics, with dramatic shifts in social perception, means this is the perfect time for a perfect storm.
My background is science and education, so my role has been clear. But we've all got our part to play in this evolutionary process that is starting to recognise a global ecosystem.
The serendipity of enthusiastic support behind the camera from Vivian Mercer and in front of the camera from Sarah enabled the vlog to happen, to my immense gratitude.
It has been filmed largely in the keeill in the grounds of Cathedral Isle of Man, courtesy of the Dean, the Very Reverend Nigel Godfrey.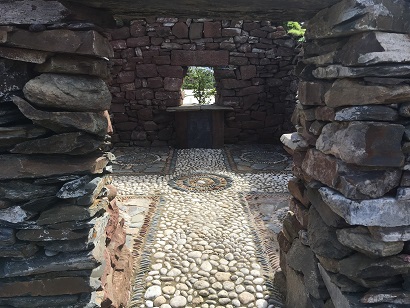 The grace and goodwill of many enabled me to build this sacred space two years ago. I wanted somewhere that was a place of reflection, peace and goodwill and a place that flowed with nature and the seasons: where better than to film in a keeill with no roof?
The episodes (more than 40 in four months) have built up a picture of energy on the Isle of Man. They have involved a lot of work and research that goes into that. 
I'm fully aware that most people didn't connect with physics at school and are daunted by numbers and science. So making our content accessible to the public at large is important.
We all have to make decisions - whether at an individual, household or governmental level. We are all decision-makers.
And the only way to scrutinise our decisions and those of government and business, is to understand some of the process and technologies behind energy, how it is supplied and how we use it.
The next steps? Let's see how it evolves. Everyone is learning at such a pace that it's quite astonishing to see the walls fall down. Change is feeding change.
I have loved-ones I thought far too set in their routines to change habits. Yet, bit by bit, they are becoming aware of small things and are changing their behaviour and attitude.
I think the content of the vlog is going to grow with the evolution our society at large. I think the focus at large may start to shift towards adaptability and social cohesion and equity, as well as resolving in ourselves the increasingly polarised views that are emerging.
I'm optimistic about the whole global movement in the longer term. Yes, this period in history is challenging, but it's not complacency that makes us grow.
Link:
https://www.youtube.com/channel/UCVvKKTC7E9ZJIP9Xis0bw-Q
Posted up on 8th November 2019