Litter has a new enemy in the form of PlasticBusters, which began patrols this year. Founder Jaime Amoedo describes how a charity walk of the Island alerted him to discarded rubbish and prompted him to set up the group:
I have always been very passionate about our environment and its preservation. As a child, I had the privilege of joining the Boy Scouts in Spain, my home country, which allowed me to spend most of my youth exploring and enjoying the natural beauty and diversity of my country, and which educated me on the importance of respecting and preserving it as a priceless jewel. This sentiment has followed me my entire life.
My family and I moved to the Island just over two years ago after an international journey that has taken us to Turkey, Italy and now the Isle of Man, and what a fantastic surprise the Isle of Man is.
We have fallen in love with this great island, its beautiful nature, rich history, passion for sports, and above all its people. It seems we have saved the best for last.
One of my passions is spending time outdoors exploring the environment. This pushed me to challenge myself to walk every single road in the Isle of Man last year (over 1,000 kilometres). It was an amazing experience which, unfortunately, also opened my eyes to the amount of waste, and in particular plastic waste, on our roads.
To do my bit, I soon started picking up pieces of plastic in every walk, encouraged by Richard Macnee's remarkable 3 Pieces of Plastic initiative, which encourages everyone to pick up three pieces of plastic litter every day... so simple!
Bill Dale and his award-winning Beach Buddies have been doing a remarkable job for years, mobilising thousands of volunteers in the Isle of Man to clean the beaches, and becoming a world reference in this respect.
Both of them inspired me to create PlasticBusters in December. A group of people with a shared concern for the amount of plastic litter polluting our environment and willing to actively tackle the issue by participating in individual and/or organised group cleaning activities.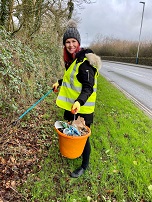 Two months after the launch, we are proud to have attracted already over 1,300 members, with activities taking place regularly in different countries around the globe. Our aim is to ensure litter is properly disposed of and thus preventing it from reaching our water streams, rivers and, ultimately, the oceans. 
Our ambition is to reach 5,000 PlasticBusters by the end of this year. We use social media as our platform to connect our members, which is proving to be a very effective channel to share ideas and the latest information on this issue, as well as to mobilise our members.
The activities are typically organised during weekends, each involving approximately 10 volunteers, who, for a period of two to three hours, clean up a section of the road or a specific area. Everything we collect is then separated for proper recycling.
All the necessary materials are provided by PlasticBusters so all we really need is a group of enthusiastic volunteers willing to spare a bit of their time to make a difference to our planet and have fun.
We are also planning to organise activities involving children and parents to start educating the younger generations as soon as possible as we consider this to be critical to a sustainable future.
If you would like to join us and become a PlasticBuster, visit our facebook page.
Posted up on 7th February 2020