Department of Environment, Food and Agriculture staff (DEFA) are 'growing their own' in a formerly disused polytunnel. Rowan Henthorn and Lydia Riddell tell us more.
The DEFA building in St John's is surrounded by beautiful woodland and gardens, and we're fortunate to be able to spend most of our lunch-breaks disconnecting from our computers to meander through the greenery.
On a dreary winter day during one of our lunchtime walks, we stumbled upon a polytunnel tucked in the corner of the DEFA grounds and filled with hundreds of plant pots and bits of abandoned projects. Straight away we knew the use of the empty space was too good an opportunity to miss, and the idea of the TSW Community Garden was formed.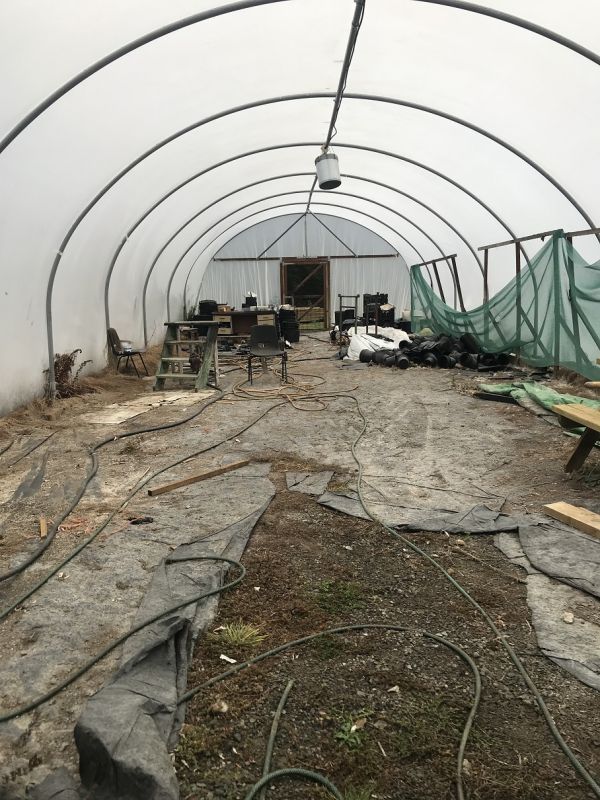 The polytunnel prior to transition
As keen amateur gardeners ourselves, we loved the idea of creating a space where colleagues could learn new skills, be immersed in nature, build friendships and work on a exciting project together outside of work. Starting completely from scratch with an empty polytunnel allowed everyone to come together to share ideas and growing suggestions, and has made every small success throughout the growing season even more satisfying.
The polytunnel belongs to the Forestry Directorate, and it kindly gave us permission to grow in it for a season. It took some work to clear it, but many hands made light work and we have been able to transform it into a little haven for plants and wildlife. We were able to start the project off with a small amount of funding from the DEFA's Wellbeing Fund, to purchase some tools, seeds and compost to get us going. As soon as we officially launched so many people donated seedlings and plants, and even some tools that were no longer needed, it has been amazing.
It's been a real collaborative effort and we have used recycled or waste material where possible, the raised beds are made from the old wooden bins from the Sulby Claddaghs campsite, and the flooring is waste woodchip from the sawmill that is too fine to be sold. Everything is grown organically and we get bottles of 'worm juice' donated from one of our colleagues with a home wormery, which is great for the plants.
Not only has the polytunnel been a great place to grow exciting and new fruit and vegetables, but it's been an amazing opportunity to grow friendships and learn more skills hands-on, in a trial and error environment. As a community project, we have encouraged all ideas no matter how whacky and wonderful- so successes are celebrated by all and we can learn from the growing mistakes we have made as a team.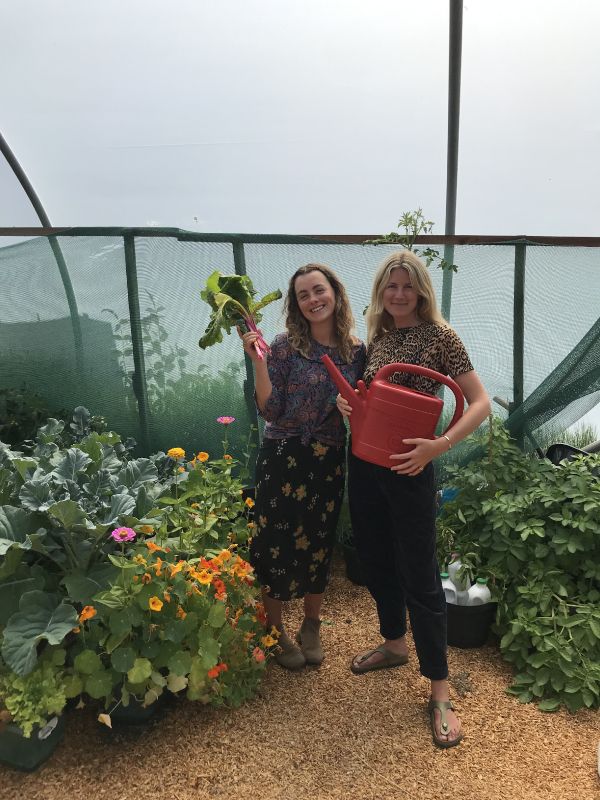 Rowan (left) and Lydia at work
Gardening is proven to contribute towards better physical, social and mental health, and being able to transport yourself away mentally is an incredibly relaxing and rewarding experience. There have been numerous studies showing that immersing yourself amongst plants and nature (even just for 10 minutes) can lower your blood pressure significantly, whilst getting your hands dirty engages our senses in a way that allows us to disconnect and de-stress.
It is a well-known fact that even just smelling and touching soil when gardening can trigger a release of serotonin, and indeed we have never left the polytunnel without smiles on our faces. In what feels like an increasingly chaotic and fast-paced world, gardening has allowed us to slow down and work according to nature's clock which can't be rushed and allows us to appreciate every small moment.
Growing your own food also has benefits for the climate too, often the produce we eat comes from far away, and has to be transported long distances to get to us, which has a carbon cost associated with it. It's also pretty much impossible to find out how that food from far away was grown, what fertilisers and pesticides were used in its production and how the people who grew your food were treated, all of which is super important when considering the environmental impact of the produce we eat.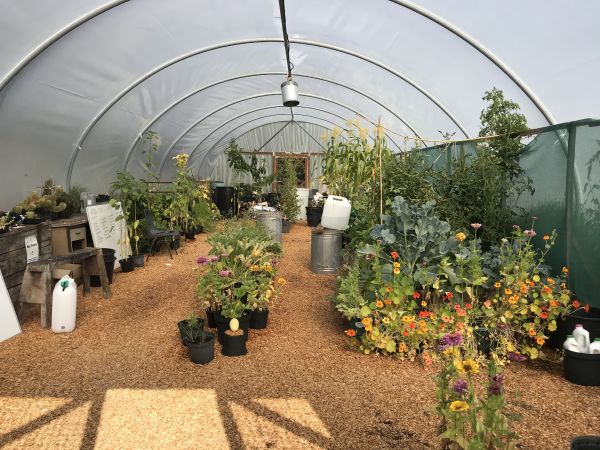 The polytunnel now
It's also really valuable to learn how much effort goes into growing a head of broccoli, a vine of tomatoes, or a head of lettuce. All the watering, tending, and weeding; it makes you look at all food differently, and the wonder you experience when you see your produce grow rubs off onto the other food you eat, you value it more and waste less because you know the effort that has gone into producing it.
Growing produce in the polytunnel has helped us grow new friendships, and even given ourselves space to grow, too. A project like this shows how easy it is to work together, build community and create a project that is both good for the planet and for people, all you have to do is tend to the garden you can touch.
Posted up on 19th August 2022