Our #CloserToNature series of blogs aims to keep us connected with nature this spring while staying at home. Renowned wildlife artist Dr Jeremy Paul writes about his isolated lifestyle as he paints - and about how we can all link up with nature:
Having been a full-time wildlife artist for 30 years, being self-isolated is pretty normal for me. I generally spend most of my time on my own in my studio, painting, and can go for many days without seeing or talking to anyone other than my wife Hilary (yes – she still talks to me!).
However, I have been incredibly lucky in that I have been able to travel extensively over the years and have seen some amazing wildlife around the world as part of my 'work'.
Indeed, we had just returned from a month in New Zealand as the lockdown started, so I am now entering my 4th week of 'isolation', but, to be honest, life for me hasn't been much different.
I do, however, have many photographs to look back on and experiences to remember as I try to put together ideas for future paintings.
I have thousands of images of not just the wildlife, but also the environment, from my travels and am constantly looking through them.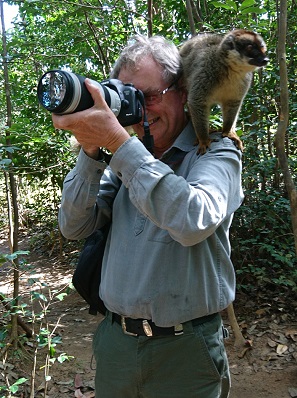 Dr Jeremy Paul in Madagascar
I have a file of 'starred' photographs on my computer which I intend to use as the basis for paintings (sometimes as many as five or six for a single painting). This currently has around 450 images in it, so I have no shortage of work to be getting on with.
Working at home and on your own is something that doesn't suit everyone. I am happy with my own company (and BBC Radio 4) and just get on with my work. I have a very structured day: I start at 9am, take a short break at 11am, lunch at 1pm, have a cup of tea at 4pm and usually finish at 6pm...every day.
Mostly painting, but also printing (I publish my own prints and also print for other artists) and a certain amount of admin with customers, framing, galleries, image licensing etc.
This increases substantially if I have an exhibition coming up. I generally have one exhibition per year and have to produce around 40 new paintings each year. No waiting for inspiration to strike – as a professional artist you just have to get on with it.
Having said that, the one advantage of being self-employed is that if I am struggling with a painting or the weather is particularly good (or wild), then I would take myself off somewhere for a walk or 'field-work'.
This is, of course, something I am not able to do at present. At this time of year I would often be found watching the seabirds returning to our cliffs, exploring glens or walking in the hills. Spring is wonderful as the Island comes to life and there are few places in the world where you can experience such diverse environments within a 10 minutes of home.
At the moment I have to 'make do' with local walks for our daily exercise (not complaining – we are lucky in where we live). We also have a good size garden with a pond (no fish, just frogs) lots of birds coming and going as well as a noisy couple of amorous hedgehogs.
I know it is difficult if you live in a town and don't have access to these things – but many people also don't take the time to just look and listen to what is going on around them.
Wildlife is everywhere – not always huge or spectacular - and now is a great opportunity to re-connect with the natural world in all its forms. And it is good for you!
Website: www.jeremypaulwildlifeartist.co.uk
Facebook: Jeremy Paul Wildlife Art
Posted up on 13th April 2020