Manx poet Simon Maddrell's latest book explores many aspects of our UNESCO Biosphere.
After the success of Throatbone and Queerfella in 2020, Simon's Isle of Sin was published by Polari Press in March 2023, exploring Manx queer history and celebrating the life of Manx actor, singer, dancer and magician Dursley McLinden, who died of an AIDS-related illness in 1995.
The new poems in The Whole Island return to Simon's more holistic explorations of Throatbone: family and folklore, history and language, nature and wildlife.
Simon said: 'The Whole Island frequently uses my cherished Isle as an allegory for the nature of my own queerness, and the queerness of nature. I also explore species and environmental threat through wildlife, folklore and place.
'From Cronk Meayll to Crosh Cuirn, Port e Vullen to Port Erin, The Whole Island recalls puffins, Manx shearwater and hen harriers when they were here in greater numbers.'
Simon said: 'The Whole Island is unapologetically Manx and welcomes in readers with translations and end notes for those less familiar with the island.
''I think The Whole Island is my best work to date. I am very excited to have secured its publication with the support of Culture Vannin as part of its 40th year celebrations.'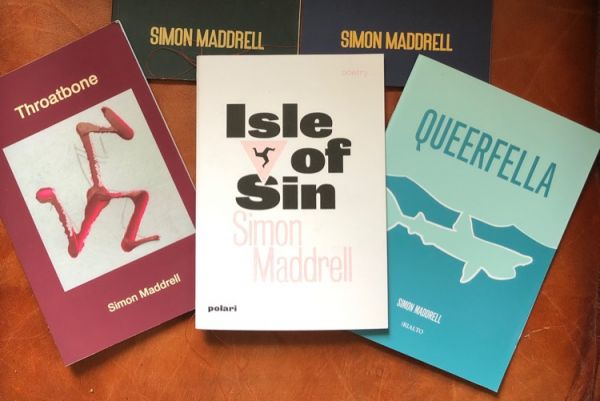 'While the UK publication date is July 5th - for obvious reasons - I wanted the Isle of Man to have a chance to see, hear and buy it first, so I am going to be wandering the Island for 10 days (9th-19th June) reading the book to anyone who wants to listen,' Simon continued.
'Whether you are a school or workplace, poetry night or coffee morning, I'll happily visit and share some of the poems from my book.'
To request a visit, email Simon via QueerManxPoet@btinternet.com
The Whole Island is published by Valley Press and will be available through all good bookshops, including Bridge Bookshop in Port Erin, Ramsey and  The Manx Museum in Douglas.
Simon Maddrell, who lives in Brighton and Hove, was the Founder and Executive Director (2002-2017) of the Isle of Man and UK charity Sand Dams Worldwide, which supports rural communities with soil and water conservation and sustainable farming.
Since 2019, Simon has been published in 16 anthologies and 80 other publications.
Queerfella jointly-won the Rialto Open Pamphlet Competition.
Follow Simon on Facebook, Instagram @simonmaddrell and Twitter @QueerManxPoet
Posted up on 7th May 2023