The Isle of Man Food & Drink Festival takes place next week - and there will be a Biosphere hub and a focus on waste reduction and recycling. Lucy Verdon, of DEFA's food team, writes:
The Isle of Man Food & Drink Festival returns to the Villa Marina Gardens on Saturday 14th and Sunday 15th September with a fun-filled programme which can be downloaded here.
Celebrate quality and low food miles in the Manx Produce Marquee, sample international cuisine showcasing the best of the Island's produce in the catering village, meet local drinks producers in the Festival Bar and be inspired in the Manx Cookery Theatre.
The Festival aims to support the Island's Biosphere for future generations; local produce reduces food miles, packaging, waste and our carbon footprint.
New exhibitors this year include Sugar & Spice Bakery, The Gourmet Donut Company, Baby Cheezus, Cow & Pig Smokehouse, MexiMann and Versa. Pippa Lovell, Founder of Versa, will be offering a locally sourced snack menu all weekend and will be giving a demonstration focused on foraging in the Manx Cookery Theatre at 13:30 on Saturday 14th September.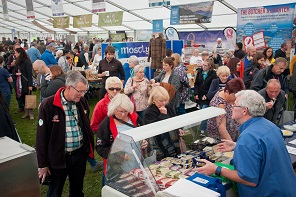 With a renewed focus on recycling and waste reduction this year, Beach Buddies will be on hand to assist at recycling stations across the gardens and a central UNESCO Biosphere hub featuring The Green Centre and Western Civic Amenity Site will provide myth busting facts and information about how you can make a difference.
Visitors can buy eco-friendly bags from the Manx Produce Marquee for just £3 and bring their own bottles to make use of the new Refill stations, all of which are marked on the programme.
With free entry for under-16s, youngsters can get stuck into a range of food-based activities using local produce in the Children's Activity Marquee sponsored by The Buchan School. Complete the farm-to-fork story with the help of the Manx National Farmers' Union and Isle of Man Creamery; watch the cows being milked, and meet the calves, goats and Manx Loaghtan sheep.
This fantastic native breed will be celebrated at the festival with wool and craft items by Ballacosnahan Farm in the Manx Produce Marquee, meat tastings next to the Isle of Man Meats stand, a jacket made from Manx Loaghtan wool at the MostlyManx stand and UK Great Taste award-winning Manx Loaghtan Lamb Salami by Close Leece Farm.
This year's celebrity guest will be professional pastry chef Selasi Gbormittah.
Since competing in The Great British Bake Off, Selasi has been involved in commercial branding and events and recently launched a pop-up bakery through online food delivery company Deliveroo. A keen biker, he set off on Selasi's Two Wheel Bakery Tour in 2017 visiting bakeries across Europe, and is now a professional pastry chef in Switzerland. 
Selasi will use local ingredients to prepare a Blackberry and Chocolate Plated Dessert and a Loganberry and Pistachio Tart for visitors, and talk about his journey from amateur to professional baker at 7pm on the Saturday night. Tickets are free and can be reserved via www.villagaiety.com 
Mae Challis headlines the live music stage on Saturday night when entry is free for visitors from 5pm (when the Manx Produce Marquee closes) until 9pm. Cheer on your favourite team in the Hot Dog Eating Competition (contact food@gov.im to apply) and enjoy local street food, beer, cider, sparkling wine and cocktails flowing from the Festival Bar. The festival also welcomes CompEAT for Charity with Davison's Ice Cream at 4pm on Sunday 15th September.
Every £1 spent locally on Manx food is worth £1.83 to the local economy. According to an Exhibitor and Visitor Research Report compiled by The Marketing Partnership, the Festival's value to the local economy has been rising year-on-year from £230,000 in 2017 to £298,000 in 2018.
Entry costs £5 each day or purchase a weekend ticket for £8, with free admission for under-16s. Book via www.villagaiety.com or pay on the gate.
The event is supported by gold sponsors The Stars Group and silver sponsors Magnet, Thai Thai Restaurant, Dave's Delicious Dogs, The Buchan School and Isle of Man Meats. In association with Manx Radio.
Follow @iomfoodanddrink on Facebook, Twitter and Instagram for regular updates.
Posted up on 4th September 2019