Following in the wake of Wallabies Gone Wild, which raised more than £250,000 for Hospice Isle of Man, another public art trail in 2022 will celebrate local marine life. Jen Adams, Outreach and Education Manager with Manx Whale and Dolphin Watch, describes its involvement:
Manx Whale and Dolphin Watch (MWDW) has partnered up with a fellow UNESCO Biosphere Isle of Man Partner, Hospice Isle of Man, for The Big Splash.
The art trail itself, which takes place between May and September 2022, will consist of 30 large dolphin sculptures, each painted to a unique design by artists and placed around the Manx coastline with the aim of getting families out and about, exploring our Island while raising funds for Hospice.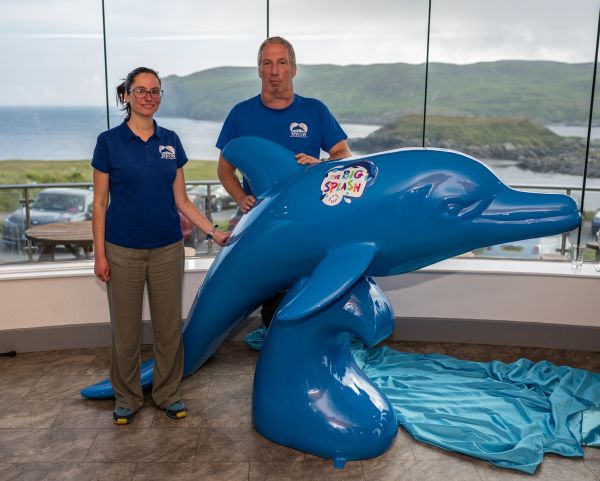 MWDW Chair Paul Cain and Outreach and Education Manager Jen Adams at The Big Splash launch
As MWDW's Outreach and Education Manager, I will be working alongside Hospice to visit each of the schools signed up to take part in the project. I will be presenting school assemblies to raise awareness of the diversity of whale and dolphin species found in Manx waters and inspire the children to look after these incredible animals.
MWDW has also produced a section for the Big Splash Education Pack, which goes into detail about Manx marine species, biology, communication, hunting, and how teachers can incorporate marine mammals into the national curriculum for the majority of subject areas.
MWDW will continue to work closely with Hospice for the duration of the project, providing information and raising awareness of whales, dolphins and porpoises in Manx waters, and the importance of our marine habitat. 
Posted up on 30th December 2021