I've always loved writing, but my career as a marine scientist and then in marine conservation and environmental policy took over and left little time to do other things. However, in recent years I have revived my interest in poetry, and then non-fiction. An unpaid sabbatical gave me the time to write a book which brings together my love of words and poetry with my passion for the sea.
My main aim with this book is to bring the fabulous marine life we have in Manx waters to a much wider audience, both in the Isle of Man and further afield. Only a handful of lucky people – mainly divers and fishermen – have a real appreciation for what we have under the surface of our seas. I really hope my book will allow a little glimpse of our marine biodiversity for those who haven't yet seen it first hand. I also wanted to write about what a special place the Isle of Man is and the strength of our connection to the sea.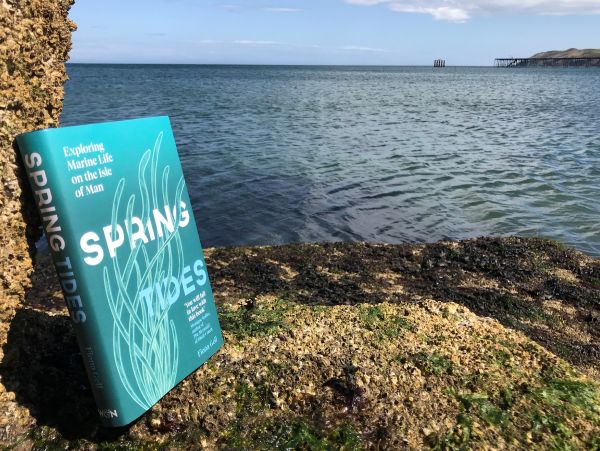 Spring Tides features some of the habitats that I love the most – diverse and colourful horse mussel reefs, beds of bubblegum pink maerl and our lush, carbon capturing eelgrass meadows. I've also written about some of my most beloved species – the beauty and grace of our bus-sized basking sharks and the marvels of ancient ocean quahogs, long-lived molluscs which have been quietly sitting at the bottom of the sea accumulating information about our changing climate over hundreds of years.
I draw on my experiences from 12 years as the Island's marine conservation officer which gave me the opportunity to work on every possible aspect of protecting our wonderful sea. From doing post-mortems on dead basking sharks to developing Marine Nature Reserves, I've been lucky enough to experience so much of our wonderful marine life and the challenges and innovation involved in protecting it effectively.
I also hope the book captures the spirit of our UNESCO Biosphere status. Our sea area is managed to promote sustainable fisheries and continues to support many livelihoods, and also to protect the very special marine life that we have. Increasingly we are valuing our marine environment for its role in climate change too – protecting and enhancing our precious blue carbon, the carbon that is trapped in marine ecosystems, which helps to reduce carbon dioxide levels.
The sea plays an essential role in our response to the climate emergency. This role is only going to grow as we understand better the potential for blue carbon, low carbon food from the sea and how a healthy ocean will help us adapt to our changing climate. Fishermen and women, scientists, conservationists and the wider Manx community are definitely working together for a sustainable future for our seas, and they are building on a long legacy of marine science, fisheries and our collective love of the sea.
You can buy the book online via the Bridge Bookshop or at any local bookshop.
Posted up on 26th May 2022