Manx Wildlife Trust's Ayres Nature Discovery Centre at the Ayres National Nature Reserve has a new look.
Visitors to the centre can enjoy new interpretation which explains the geology, ecology and human history of this unique and valuable part of the Island's Biosphere. 
New murals inside and out feature the varied habitats and wildlife of the area and were sponsored by Biosphere Partner Appleby Global, together with new windows replacing old, very sand-blasted ones.
Another Biosphere Partner, Go Green installed solar panels which will provide power and enable MWT to hold more events and activities on site. Visitors can already find fascinating facts about our collection of beach finds, be encouraged to live more sustainably and borrow rucksacks to go out "on safari" around the National Nature Reserve. 
Charity shop finds and up-cycling existing materials, plus many hours of hard work by volunteers, have all contributed to the new look, which is proving very popular with visitors. 
His Excellency the Lieutenant Governor and Lady Lorimer carried out a reopening in August.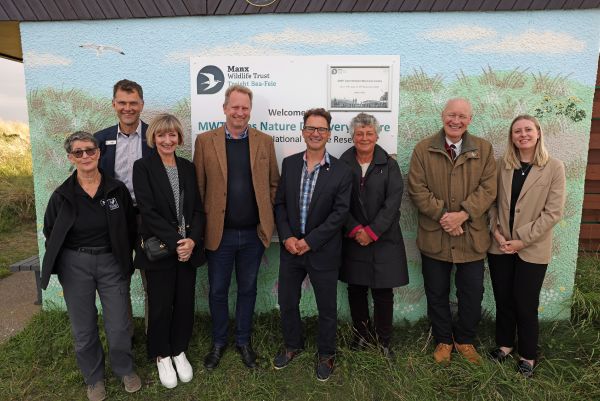 Manx Wildlife Trust also has a Nature Discovery Centre at Scarlett and both are designed to help people actively engage with nature in a fun but informative way.
Both form part of the Love Tech Summer Wildlife Challenge being run by the charity with Manx Wildlife Trust and UNESCO Biosphere Isle of Man. That runs until 30th September.
The Ayres Nature Discovery Centre is opened by volunteers from 1pm to 4pm daily from May to 17th September 2023.
The centre opens seasonally and will reopen on 4th May 2024. New volunteers are always welcome. Contact Manx Wildlife Trust Trustee Kim Etherton at kimetherton2@gmail.com to find out more.
The Ayres National Nature Reserve is in public hands and is wardened and looked after by the Department of Environment, Food and Agriculture. Learn more about it here.
Main photo: Go Green.
Posted up on 29th August 2023