Young people are invited to connect with and write about nature this spring and summer – and they may have their work published and win prizes.
Young Nature Writer 2022 is launched to coincide with Manx Wildlife Week (30th April to 8th May 2022). The challenge runs until the end of the school summer holidays.
Young people aged 21 and under are invited to write up to 500 words about Manx nature or wildlife – their favourite creature or place, a specific experience, or how being in nature makes them feel. They can illustrate their entries if they wish to.
The challenge is run by UNESCO Biosphere Isle of Man with Manx Wildlife Trust (MWT), Manx Ornithological Society (MOS) and Isle of Man Newspapers.
Winning entries will appear in Isle of Man Newspapers' titles and on its website and in Manx Nature, the twice-yearly magazine for MWT members.
The Isle of Man overall winner will receive a year's family membership of MWT, a year's membership of MOS, and a beautiful hand-made wooden trophy made of local wood by a local craftsman.
Other winners will receive MWT goodies.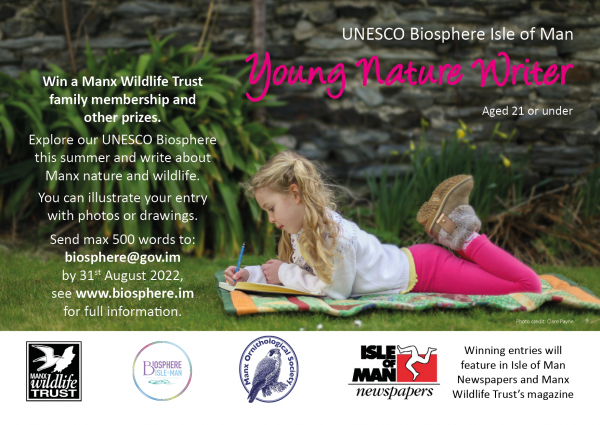 For the second year, UNESCO Biospheres in Dublin Bay and Kerry in Ireland are running the challenge, too, and will also choose winners and award local prizes.
One overall winner, chosen from the three Biospheres will receive a nature experience in their Biosphere. The 2021 overall winner was from Kerry Biosphere.
Clare Barber MHK, Minister for Environment, Food and Agriculture and Vice-chair of UNESCO Biosphere Isle of Man, said: 'I hope our young people will use this as an opportunity to connect with our wonderful Biosphere.
'As custodians of the many parts of the Island's unique landscape, such as plantations and glens, DEFA manage so many places that inspiration can be taken from.'
Leigh Morris, CEO of MWT, said: 'Manx Wildlife Trust is delighted to be involved with the UNESCO Biosphere Young Nature Writer again in 2022. Engaging with younger generations has never been more crucial for us and this competition helps inspire young people to reflect on our Island environment and record their thoughts. The entries last year were fantastic and I'm looking forward to reading this year's.'
Janet Thompson, Secretary of the MOS, said: 'The Island has incredible native and visiting birdlife. Once you start looking, you will see birds everywhere. For your entry, why not open your eyes, look up to the skies and resting places and write about the birds you see and the lives they lead?'
Richard Butt, Editor of Isle of Man Newspapers, said: 'It's a pleasure to again team up with UNESCO Biosphere Isle of Man, of which we are a Partner, MWT and, for the first time this year, MOS to encourage and publish new young writing talent on the important topic of the nature around us.'
Posted up on 29th April 2022