Faye Christian tells our Biosphere's story through her ceramics. A farmer as well as a potter, Faye describes how the land and sea inspire her and how her miniature Manx cottages are captivating the public.
How did you become a potter?
I completed an art foundation course at the then Isle of Man College in 2002 and studied ceramics at Camberwell College of Art, London. After graduating in 2006, I couldn't wait to return to the Island and set up my own studio. In 2010, I became a full-time potter and I have made tableware and studio pottery for almost a decade. In 2011, I married the boy from the farm across the valley and kept the family tradition of farming alive for another generation. I took time away from the studio to welcome our sons and I am returning with a new body of work, including a collection of miniature Manx thatched cottages – Thie Thooit in Manx.
Did growing up on a farm, and being so close to the land and nature, influence your creativity?
Absolutely. I feel attached to the living environment and to the rhythm of the seasons, which may well have come through growing up on a farm. My studio is a shed on our farm and I love to work with the door open and see the weather outside, even when it's raining. In London, I felt disconnected from nature. I remember how happy I was when I found conkers on the streets, because it was something I could relate to, and for the rest of that term I built conker shells out of clay. I think the farm has also taught me not to be afraid to roll up my sleeves and get my hands dirty – perhaps why I choose to work with clay.
How does your work reflect what we see all around us in our Biosphere?
We're so fortunate living on this Island, where you can find inspiration from horizon to horizon. To represent the experience of the Isle of Man I include elements of the sea, the mountain and the farm land in my work. My pottery includes bowls incorporating materials found in our landscape, mixing them directly into the clay where they melt, bubble and crack the body of the pot. For one exhibition, I produced a bowl for each of the major beaches between Douglas and Peel, heading south and west. I mixed a tablespoon of sand into a ball of pure white porcelain clay. The bowls all looked incredibly different from each other. The bowl representing Fenella beach disintegrated during the exhibition, though, due to the high content of scallop shells.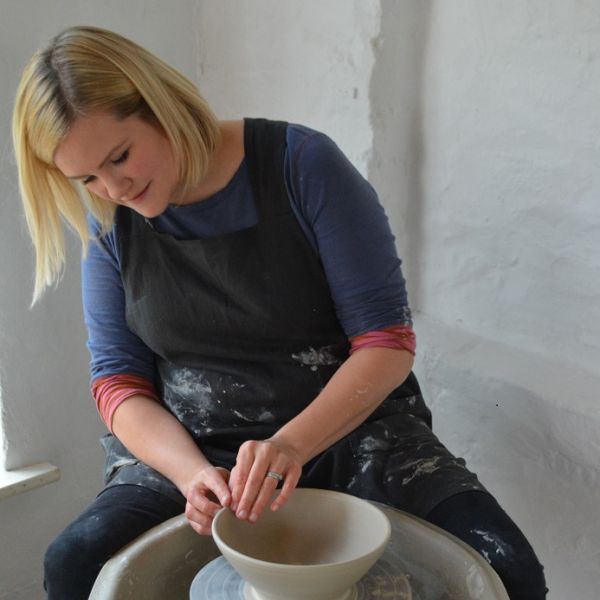 What do you enjoy about 'throwing' pottery on the wheel?
I get a real buzz out making things on the wheel. Seeing a functional object appear in place of a ball of clay is so rewarding. It takes a big investment of time to acquire the skills needed to throw a pot, but, once you own those skills, the potential is exciting. Making tableware is my first love and the idea that the pieces I create on the wheel can become part of someone's life is such an honour. I also enjoy using the wheel to create non-traditional pieces. By manipulating symmetrical pots after you have thrown them, you can create something original. Lots of the pieces I make begin life on the wheel, even if they don't look like it. For example, fish head salt pots I make for a local restaurant begin as round pots that I take apart and reconstruct to form fishes' open mouths.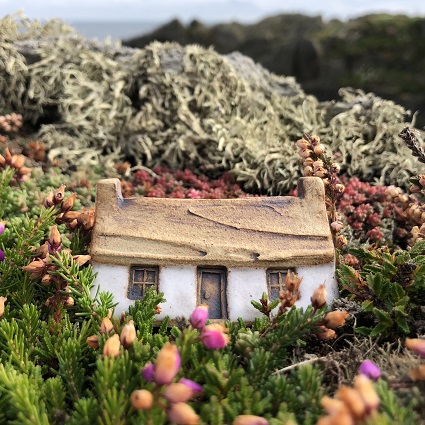 Your tiny Manx cottages are capturing the public's imagination. Tell us what inspired them and where we can see them?
To me, the Manx cottage is a perfect symbol of our Island. They are the homes the Manx built, by hand for generations, from just the land and materials that surrounded them, and they evoke thoughts of the lives and the occupations that took place inside them. My miniature cottages are thrown on the wheel in a large, open, circle, which is why each cottage has a curve. The circle is then divided into individual dwellings, each with its own personality. I use speckled, white and raku clay and, after their first firing, apply an iron oxide wash to the roof to enhance the thatch effect. Finally the cottages are whitewashed with glaze before being fired again. The cottages are for sale from the Manx Museum shop and directly through my Instagram feed, IsleofManPotter, or facebook page, Faye Christian Ceramics.
How do you balance life as a busy farmer and parent with your craft and what do you enjoy about pottery?
Having children has taught me that I can handle more than I thought so, for the next few years while they are young, it's about juggling the giant heap of responsibilities and hoping I don't drop too many of the important ones. One of the huge benefits of a farming life for us is that we both have our families close by. My mum helps me with the children so I get at least one day a week in the studio and the rest has to happen when they've gone to bed. I'm fortunate that pottery is something I can work on from home and around fit around my other commitments. The Manx cottages are a perfect project for this kind of working as I can pick them up and put them down as time allows.
You are part of a growing pottery 'scene' in the Island. Tell us about some of the exciting things happening?
It's a good time to be a potter on the Isle of Man. We have a growing community of ceramic artists and, in 2018, I started Manx Potters, an online community which already has more than 150 members. We've had fun social events, including a talk from a contestants from The Great Pottery Throw Down, life drawing in clay with the Isle of Man Drawing Club, and pizza night which we called Leaning Towers and Pizza. The group has a strong collaborative spirit and this year, member Susie Heckles organised our first public event, the Manx Potters Fair, with 17 of us exhibiting. We were blown away by how well attended it was and I'm sure it will be an annual event.
How can people learn this skill?
The first thing to do is to join our facebook group Manx Potters. Some of our members teach and we have sculptors, hand-builders and throwers in our community. University College Isle of Man, where I began studying, also offers a brilliant way to get started in ceramics. You don't need to have your own wheel and kiln to start off with.
Posted up on 10th November 2019