28th September 2021
The Isle of Man hosts the next in a year-long tri-Biosphere webinar series running throughout 2021.
Culture Vannin's director Dr Breesha Maddrell will deliver 'The making and remaking (of) each day: sharing the stories of our shores'.
The webinar takes place on Zoom on Tuesday 28th September, from 12.30pm to 2pm (to include questions). It is free to attend.
Dr Maddrell said: 'This webinar will explore the importance of stories and sense of place within our biospheres, with the help of short films made in the Isle of Man.
'From sea gods to field names and men in boats, the importance of capturing, promoting and developing Manx culture will be highlighted.'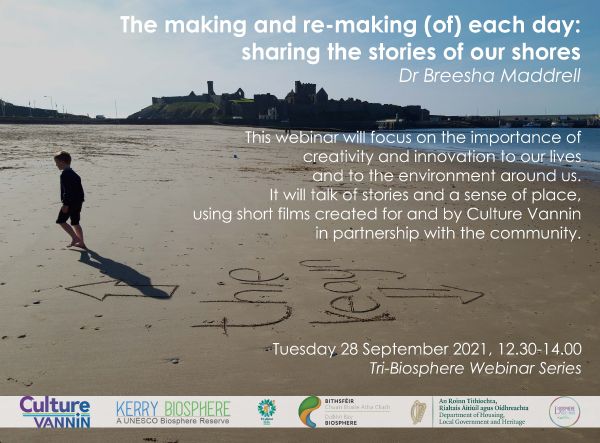 The tri-Biosphere webinar series is being run by the Isle of Man, Kerry and Dublin Bay Biospheres.
It promotes learning about shared interests in the 50th year of UNESCO's Man and the Biosphere Programme, and is an officially accredited 50th anniversary event.
Jo Overty, UNESCO Biosphere Isle of Man Project Officer, said: 'Being able to collaborate with, and share learning with, other Biospheres is one of the most valuable parts of belonging to this auspicious global programme.
'Culture – the way we have lived in the past and live now – shape our Biosphere and this promises to be a fascinating webinar delivered by a very knowledgeable speaker, of relevance to people in all three Biospheres and beyond.'
Book here.