Isle of Man artist Kate Summerville describes how the sea that makes up nine tenths of our UNESCO Biosphere, and its colourful inhabitants, inspire her work- and updates us on the challenge she set herself during the latest lockdowns:
What is your background as an artist?
I have a degree in fine art from the University of Leeds and, after graduating in 2007, I spent many years painting as a side hustle. My first son was born in 2013 while we were living in Australia and this really spurred me on to make more art in order to be at home with him. In 2017, my second son was born and we moved back to the Isle of Man the following year. It has been a massive juggle but I am finally in a really sweet spot, with two kids at school from September and at a point in my career where I can be a full-time artist.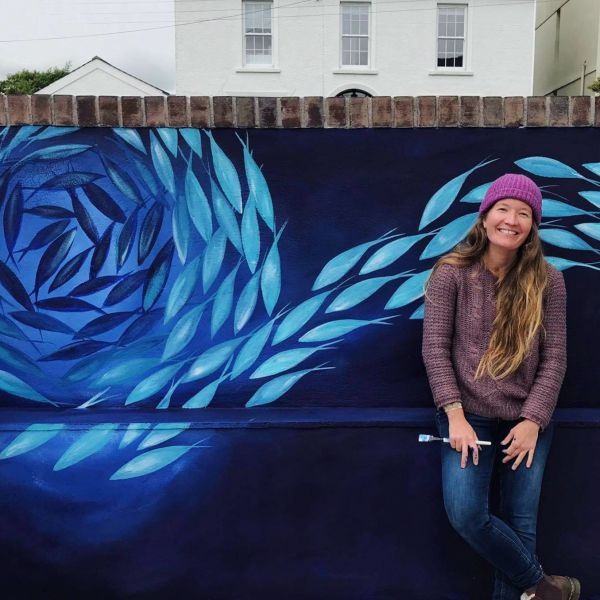 Describe your work and your style:
My work is heavily influenced by the sea and its inhabitants. Colour, shape, pattern and recurring motif make up my watercolour and acrylic paintings. Shoals of fish in an array of blues and iridescent hues are something I have been painting for years and they are almost meditative to work on. I don't think I will ever tire of painting fish.
What is it in particular about the sea and its inhabitants that gets your creative juices flowing?
I love the mystery of the sea and feel like I have a real affinity with it as something that has been a constant in my life. From the beaches of the United Arab Emirates, where I grew up, to the wild Pacific coastline of New South Wales, Australia, where I spent nearly a decade of my adult life and now the magical Irish Sea that never looks the same from one day to the next. I just love it.
How does our UNESCO Biosphere inspire you?
I am lucky enough to live moments away from the beautiful coastline surrounding Port St Mary and there aren't many days in the year when I don't 'see the sea'. It is a never-ending source of creative inspiration and I feel so privileged to live and work in such a special and biodiverse part of the world. My family and I are keen beachcombers and spend a lot of hours scouring our local beaches for treasure, a lot of which we have on display, and I am never short of colour, shape and pattern inspiration.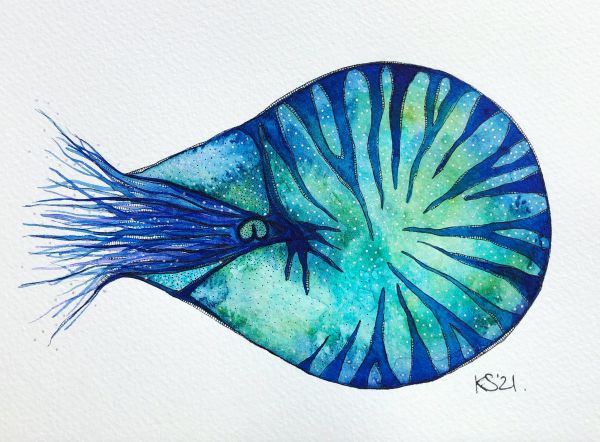 You recently created a painting a day for 100 days and they sold out as soon as you posted them online. Tell us about that project?
We went into a second lockdown on the IOM in January and I needed a new project to get me out a bit of a creative funk and so the 100-day project was born. I painted a little A5 painting each day for 100 days and they were for sale for £25. It was just a total hit and became a bit of a race each evening when I released them, with people setting alarms in order to get their hands on one. I think it was just a little high point in people's days and, because they were only £25, it was accessible to most. I am so grateful for the wonderful, supportive community here on the Island that really get behind my work.
What are you planning next?
I am currently working on a few private commissions and have a couple of pieces in the annual competition exhibition at the brilliant Hodgson Loom Gallery, above Laxey Woollen Mills. I am also in the planning stages of an 'A, B,Sea…' book, so watch this space.
Where can we see and buy you work?
I regularly exhibit at the Hodgson Loom Gallery and Studio 42 in Port St Mary also stocks some of my originals and art cards. Most of my work sells through my social media pages:
www.facebook.com/katesummervillestudio
www.instagram.com/katesummervillestudio
You can contact me direct to discuss commissions.
Posted up on 11th April 2021