Support is sought for a new haven for birdlife being created on former quarry land at the Point of Ayre. Neil Morris, Managing Director of Manx BirdLife, updates us on the charity's plans and the 'once in a generation' opportunity to get involved:
Can you help us to create a truly special new nature reserve for the Isle of Man?
After 20 years of patient negotiation, Manx BirdLife has acquired a long-term lease to restore for nature the quarries at the Isle of Man's famous Point of Ayre.
An evolving partnership between Manx BirdLife, Island Aggregates, RSPB and the Isle of Man Government is setting out to create a thriving new nature reserve at this wonderful location.
The north Ayres coast of the Isle of Man stretches from Jurby eastwards to the Point of Ayre. With its rugged landscape – and mix of sand and shingle beaches, low-lying dune slacks and heathland habitats – the area is a magnet for nature.
Important assemblages of breeding, migrant and wintering species of bird feed, rest and raise their broods here, supported by a star cast of other rare and scarce wildlife.
The new reserve will be known as the Manx BirdLife Point of Ayre National Reserve. It has potential to reach more than 450 acres in size. It will dominate the Point of Ayre headland.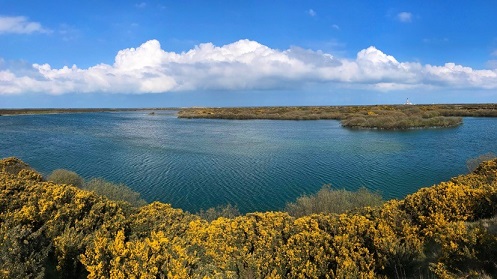 Extensive areas of lowland open freshwater created by past quarrying activity will form a unique habitat on the Island, attracting an equally unique range of bird life.
Although work to restore the quarries and develop the habitats has only just begun, Manx BirdLife's staff and volunteers have monitored the site throughout those many years of negotiation. Amazingly, 179 species of bird have already been recorded.
In winter, the reserve's lagoons host large flotillas of wild ducks. It's the only place where handsome Pochard, swarthy Gadwall, spade-billed Shoveler, saw-billed Goosander and head-bobbing Goldeneye are regularly to be found on the Island.
Resident Hen Harriers and Peregrines are joined in winter by Merlins – small dashing falcons that acrobatically chase after Meadow Pipits. Among the thrush and finch flocks are Redwings, Fieldfares and increasingly scarce Twites and Snow Buntings.
Summer brings nesting Common and Black-headed Gulls. These, along with Gadwall, nest nowhere else on the Island. Three more species of gull nest alongside Cuckoo, Curlew, Eider, Cormorant and a host of sub-Saharan warblers including the locally rare rattling Lesser Whitethroat.
Gossamer Arctic and Sandwich Terns frequently grace the reserve. Hopefully, they can be attracted to nest on the shingle islands that are currently dominated by crane-necked Cormorants and their bulky stick-tower nests.
A regular mid-summer gathering of enigmatic Stock Doves, strangely rare on the Island, is an odd and noteworthy phenomenon.
Spring migration brings northbound Wheatears and White Wagtails as well as Whimbrels. Greenland White-fronted Geese and Whooper Swans rest up on the reserve during both their spring and autumn migrations.
From even farther afield, several Nearctic vagrants such as Slate-coloured Junco and Blue-winged Teal have graced the reserve. And all year round, the site rings to the high-pitched calls of Chough which cry, chatter and feed in complex social gangs.
There is a wealth of other wildlife, some of which we are only just discovering. In 2019, the reserve hosted a dragonfly species never before seen on the Island, in the form of an azure Black-tailed Skimmer, as well as three dragonfly species that bred for the first time anywhere on the Island.
In the context of the Isle of Man, the potential scale and scope of this new reserve is unrivalled in recent times. It represents a once in a generation opportunity – and one that will bring opportunity for generations to come.
Of course, it will take money and effort to realise our ambitions for the site, for which we need support.
The Isle of Man Government announced financial support in the recent Budget but extensive fundraising will be undertaken.
Please visit www.ManxBirdLife.im/Point-of-Ayre to discover more about the Isle of Man, its bird life and how you can support this exciting project.
Everyone involved in the partnership looks forward to getting the reserve ready for your first visit.
Posted up on 8th March 2020