A project exploring the work of writer Malcolm Lowry (1909-57) and his links to the Isle of Man and the sea now boasts 20 fascinating podcasts.
In the 1950s, Wirral-born Lowry used the sea and the Isle of Man as inspiration to call for greater concern for the natural environment.
In his story collection, Hear Us O Lord From Heaven Thy Dwelling Place, (named after a Manx fishermen's hymn), Lowry explored the threat of industry to our environment and he used the Isle of Man, which he visited as a child, as a symbol of hope and natural beauty.
The podcast project, which takes its title from the story collection, is a collaboration between Leeds Beckett University, Liverpool John Moores University and the Bluecoat, and is led by Dr Alan Dunn, Dr Helen Tookey and Bryan Biggs and supported by a UK Arts and Humanities Research Council grant.
The team made three visits by sea to the Island in 2021 and 2022, interviewing Dr Michelle Haywood MHK, political member for Environment with the Department of Environment, Food and Agriculture and a marine scientist and diver, DEFA officers in charge of environmental policy and UNESCO Biosphere Isle of Man, Manx National Heritage, Manx Wildlife Trust, beach cleaning volunteers, those with an affinity for the sea, including sea users and wild swimmers, musicians and artists and others.
Many of the interviews took place at or near the sea, including on Isle of Man Steam Packet Company ferries.
The resulting podcasts can be heard via www.malcolmlowry.com
The team behind them says more podcasts may be added and it also hopes to develop new projects in the Island, focusing on underwater recording.
The sea makes up 87% of the Island's UNESCO Biosphere.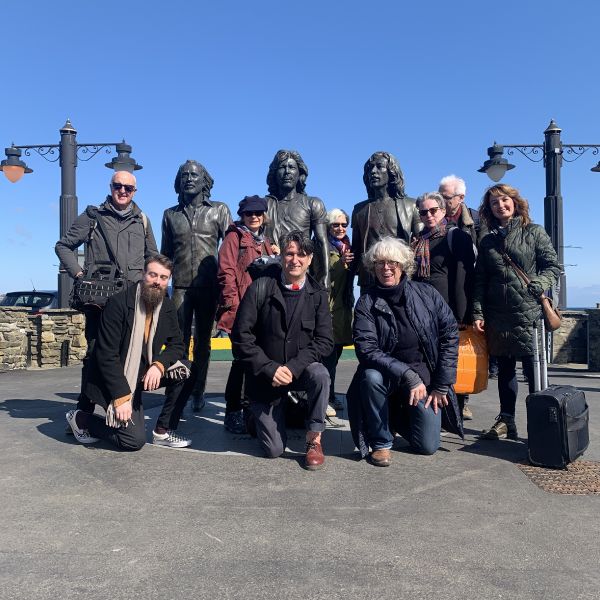 Alan said:  'Our aim was to try to develop a new sonic language for thinking about ocean pollution, and particular plastics, using Lowry's texts as markers.
'During the ferry crossings, for example, The Art Doctors (Liz Stirling and Alison McIntyre) engaged ferry passengers in using Lowry's texts to make collages around ocean-related themes.
'On one crossing they even worked with a group of comedians, including Paul Merton, who were crossing for a gig.
'One of our network members is Chris Watson, known for his award-winning sound recording work with David Attenborough and on the Island Chris made some astounding underwater recordings of limpets and shrimp.
'There are other snippets of conversation within the abstract podcasts, as well as soundtracks from Isle of Man musicians and young people playing with Lego. We also involved some Leeds Beckett University Fine Art students, one of whom has family on the Island, and who have been researching the use of seaweed in sustainable non-chemical printmaking.
'What has made this project so special so far has been the incredible generosity of all those we've encountered on the Isle of Man who gave up their time, usually at weekends, to chat with us and to point us in good directions.'
To contact the project, email A.Dunn@leedsbeckett.ac.uk
Posted up on 10th March 2023