Starsky, Posh and Baby Spice, Raina, Rhino, Rosie, Tilly, Isabel, Rambo and Black Magic are doing their bit for the planet by producing organic compost that is going down well with gardeners Island-wide.
The large black pigs are in full production at Pete Kermeen's Corony Farm, Maughold.
Pete is a gardener by day and sought to recycle the garden waste he collects from customers, as there is a large cost to tipping it.
He mixes it with fruit and the mash left over from the beer brewing process, sourced from a local brewer, and feeds it to the pigs, then nature takes its course.
The resulting product is high in nutrients and ammonia, which encourages plant growth.
The compost is tested by an independent expert. Pete then sells it in 40-litre, reusable, bags and offers home delivery.
The compost-making process has also been on show at open evenings held at the farm this summer.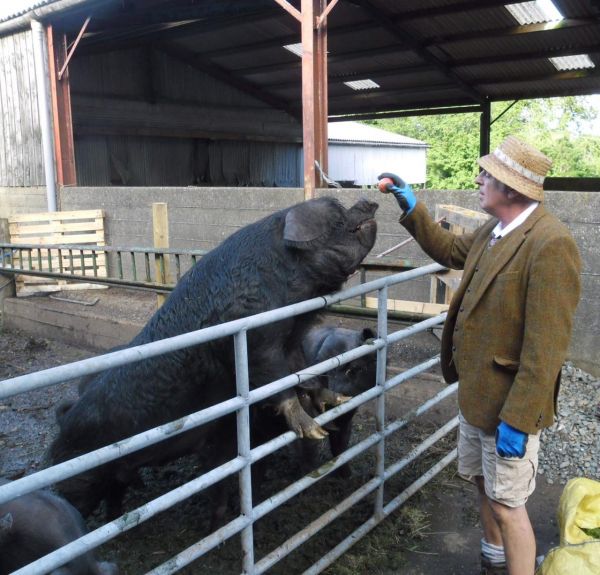 Pete and his pigs (photo: Sue Moon)
Corony Farm has been in Pete's family since the 1940s. His mother and father met by a nearby sycamore tree.
He is diversifying in other ways and visitors to farm events go home laden down with food and craft products that Pete and other local artisans produce.
The evenings have proved so popular that Christmas markets are on the agenda.
Pete said: 'The ethos of my business is to keep costs low, productivity sustainable and our carbon footprint as low as possible. The pigs even live in upturned fish tanks, recycled from the Glen Wyllin hatchery.
'Everyone needs compost for their gardens or plant pots. Everywhere sells imported compost and much of that contains peat, a cherished resource in the fight against climate change. So why not buy something local and better?'
One open evening customer said: 'The compost is the best in the Island. Once everyone gets to hear about it, he won't be able to cope with demand.'
Contact Peter via kermeen@manx.net or look for event notifications on facebook.
Posted up on 3rd September 2020