UNESCO Biosphere Isle of Man Partner PwC Isle of Man has given a helping hand to environmental projects. The company tells us more.
At PwC Isle of Man we are committed to doing the right thing in our business, and have a responsibility to the Isle of Man community in which we work and live. Community engagement is an extremely important element of our corporate responsibility strategy, with our main aim to give something back and make a positive difference to the local community.
We are involved with a number of charities and community groups and each summer our people lend their time and skills to help these organisations through our annual community project. The project is a summer highlight in our year where our people volunteer an afternoon of their time to help and support a local Isle of Man charity or project.
In 2021 this project saw 85 of our people work together and make a difference to our local community, supporting two amazing charity projects with a total of 289 hours. Both projects saw our people connecting with nature and enjoying getting out in our natural environment.
The first project was supporting Biosphere Partner The Children's Centre's Community Farm. The Community Farm is a safe, nurturing, and educational setting for children and young people.
On the farm we helped with the implementation of a new area for beehives, which will include stone edging, pathways and the planting of more trees in the area to encourage the bee population. Bees are perfectly adapted to pollinate, helping plants grow, breed and produce food, transferring pollen between flowering plants and therefore keeping the cycle of life turning. The bees will help with the new fruit orchard recently planted at the farm.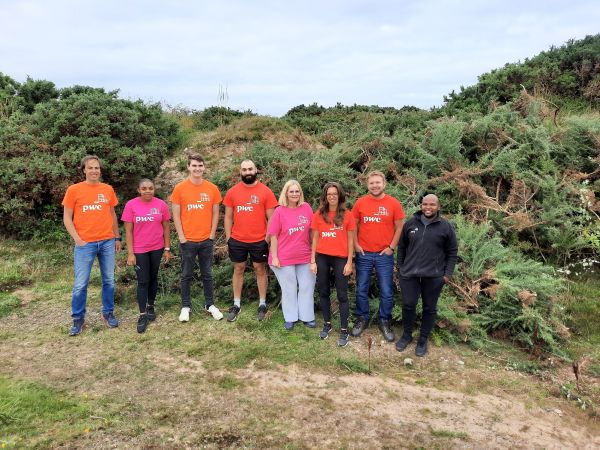 PwC Isle of Man at Manx BirdLife
Our second project was supporting another Biosphere Partner, Manx BirdLife, with the habitat maintenance of their 105 acres at the Point of Ayre National Reserve, trimming the wildly overgrown gorse and brambles bushes around the reserve.
Manx BirdLife have been working on a long-term restoration project which commenced in 2019. They aim to create a special place for birds and people.
Strategically located at the northernmost tip of the Isle of Man, the reserve will provide refuge and act as a way-marker to migrant birds each spring and autumn. It will host an assemblage of breeding and wintering birds and other wildlife that will be unique within the Island's landscape.
It's a beautiful place, a hidden gem tucked away and not currently open to the public. Manx BirdLife is working very hard to make it safe and accessible for all and we can't wait to go back!
We have been business partners of the UNESCO Biosphere since 2019 and this is just one way we support our pledge. To us, the Biosphere's strategy aligns with our own values and purpose and it is so fulfilling to support our Island while also improving our own wellbeing.
Watch what a great experience the team had in our 2021 Community Project video.
Posted up on 18th November 2021