UCM masters degree student Nikole Cervantes is conducting a study of the benefits to business of being involved with Biosphere and vice versa. Halted at the start of the Covid-19 crisis, Nikole explains how technology, and the buy in of Biosphere Partners, means her project is back up and running:
Since the start of the COVID-19 pandemic, the majority of activities have changed. The way of socialising, creating business, and recreational activities have had to adjust to new norms. The majority of expected and high-profile events in the Isle of Man have been cancelled.
For the project "UNESCO Biosphere Isle of Man in Business" this wasn't any different. In February this year, we began this participatory project addressed to local businesses, intending to improve the engagement between UNESCO Biosphere Isle of Man and businesses, and vice versa, and how it's contributing to a sustainable future.
One of the first activities that was planned for the project were the interviews with our business partners to understand the positive actions that the different companies have carried out in their sectors, their doubts, limitations, and their ideas. For March 2020, some face to face interviews had already been completed, and some others scheduled, and then what happened? Covid-19.
Due to the Covid-19 pandemic, and following the Isle of Man Government guidelines, the project was paused. However, as of May 2020, the project is back. I consider that now it is more important than ever to know about the companies and their business, and how UNESCO Biosphere can connect with them.
You probably will be asking yourself: how can the project continue when such a vital part of the project is the participation and interaction with the businesses? Never underestimate the power of an audio or video call. Audio and video calls allow us to continue connecting and researching with the participants of the project and adding the essential human touch in this project.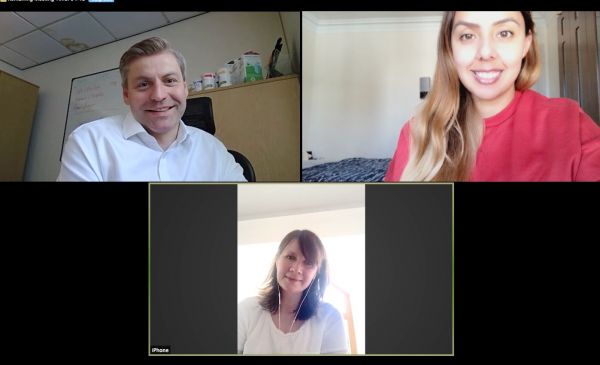 Nikole speaks with Isle of Man Creamery
So far, it has been fascinating to hear the ideas that companies and associations of different sectors have about how to contribute to protecting and developing the Isle of Man's natural environment, economy and culture. But also, reflecting on ways to continue keeping up with the daily business tasks and challenges that have come up at present.
Some of the comments that the participants have provided lean towards the lesson that nature is giving us, and how little actions and breaks can generate a significant and positive impact in our environment.
Also, they highlight that it is crucial to protect our natural resources because, in the circumstances like this one, it is the beautiful landscapes, the flowers blooming, and the birds singing that have given us little moments of happiness and relaxation.
And they mention, more importantly, how amazing the Manx population hasresponded to supporting local business and helping each other in their communities.
All those items that have been listened in the interviews are what UNESCO Biosphere Isle of Man is about: our community, our culture, our environment. Those actions that our business partners reflect on are what defines the Isle of Man and its unique lifestyle, what makes this Island a special place to live.
In the coming weeks, I will continue contacting businesses to hear their experiences and ideas, and I have to admit that I am very excited about it! If you are interested in participating, please do not hesitate to contact me to my email nikole.cervantes@gov.im
I look forward to welcoming your stories and hope we have the opportunity to talk.
Business and Biosphere the subject of study: March 2020
Posted up on 3rd June 2020