On November 12th, chef Pippa Lovell, of Versa in Port Erin, represents the Isle of Man in the regional final of a prestigious cookery competition, San Pellegrino Young Chef.
In a competition where most chefs are chasing a place in the global final, Pippa, who creates her dishes from locally foraged food, is specifically striving for the award for social responsibility. She writes:
As one of just three women in Europe to reach the UK and North European final, I aim to show the strength of being female and from a small, tight-knit, island and demonstrate the strength we have by being a UNESCO Biosphere and what this means for us and our independence. 
To complete for the award, I am transporting every micro ingredient to London including salt from our sea.
I hope to show that you do not need to use anything other than the produce available to you by exploring on foot to create a gastronomic delight and highlight why this is so important: food miles, packaging, nutrients, flavour….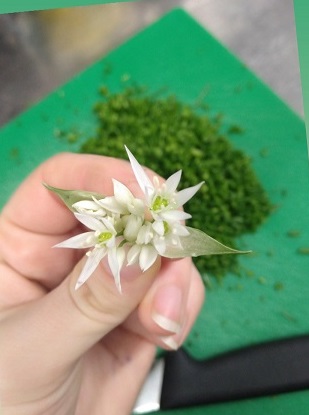 I'm up against chefs who work in three-star restaurants and do nothing but cook and barely sleep.
I want to spread the word about our island, cook a dish I feel strongly about as it represents my values and, if an award comes as a by-product of that, I've still done what I set out to achieve.
I will produce 10 plates of my dish at the Waitrose School of Cookery in London in front of a prestigious jury, some of whom are great 3 Michelin-starred chefs who I consider to be my role models.
My dish consists of Manx Loaghtan cannon smoked in gorse from where they graze, sous vide in Manx spring water that they drink, the most local carrot possible, fermented, and a sourdough Laxey rye donut with Bushy's stout caramel, wild cresses, wild garlic and nasturtium powder.
The competition's ingredients/equipment organiser reacted with surprised when I insisted I didn't require any ingredients sourcing for me, not even garnishes. It seems I am the only chef taking every ingredient with me.
The contest's meticulous entry criteria state that only two ingredients can be changed, from the date of entry, six months ago, to reflect seasonality.
With no intention of reaching the televised global final in 2020, and competing purely to gain the award for social responsibility, I will stick by my restaurant's principles and only use the ingredients that are available within walking distance, meaning that if they need to be altered in order to respect the environment and, therefore, go against competition rules, sobeit!
Find out more about the UK and North European final here.
Follow Versa's social media channels for updates.
Posted up on 4th November 2019