Yn Ellan Ain (Our Island) Garden, created for the Year of Our Island celebration in 2018, is in full bloom this summer. One of its creators, Jill Dunlop, a teacher at Anagh Coar, encourages us to visit.
If you make a beeline from Tynwald Hill to the nearby garden, you can experience its wildflowers in all their summer glory. 
On a sunny day/evening, this vibrant garden is filled with the happy hum of bees collecting nectar.
Packed with pollinator-friendly plants, swathes of wildflower meadows highlight the Island's flora, encouraging appreciation of our UNESCO Biosphere – and that's just by the bees, for a start.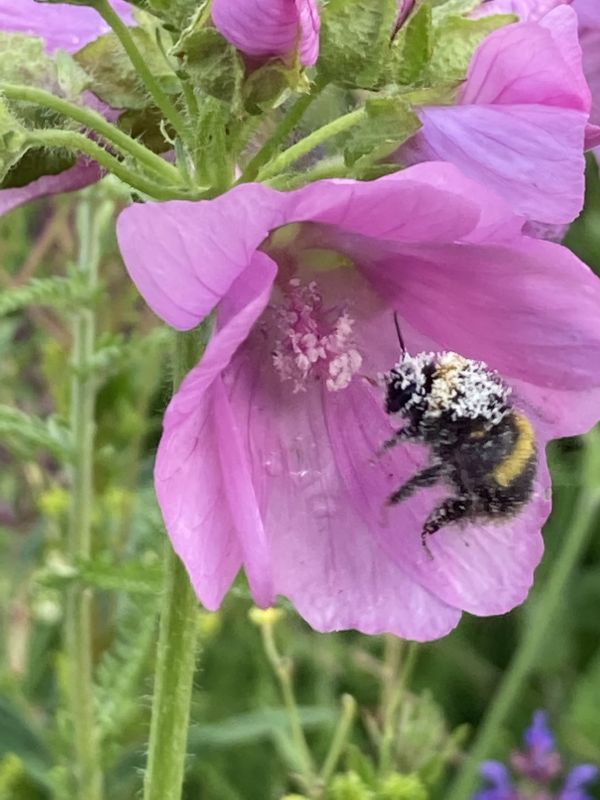 The United Nations held its annual World Bee Day on 20th May, promoting the significance of bees, and Yn Ellan Ain Garden is playing its part.
The Island Beekeepers' plot and neighbouring plots are abuzz with dazzling bee-friendly delights, packing a delectable summer punch for our pollinator pals.
As bees are vital to the balance between plants, humans, animals and their environment, this is a fabulous place to experience conservation in action and be inspired. 
Overall biodiversity is encouraged, with a wide range of bird visitors, including a recent sighting of entertaining long-tailed tits moving through surrounding foliage and hanging upside-down to feed.
Over the summer, butterflies are set to flutter in to feed on buddleia growing in profusion and, strolling around at dusk, you might spot a bat swooping by.     
Family and wheelchair-friendly, the garden provides a welcoming location for a quick visit, or to spend longer relaxing in, perhaps enjoying refreshments at a bench or picnic table.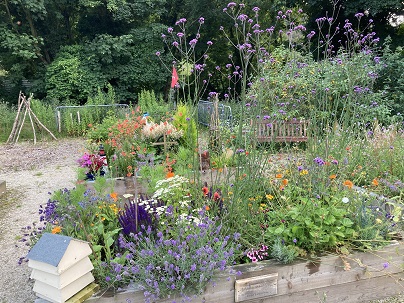 Presiding in the centre is the Manx Three Legs symbol, set in a circle above an outline map of the Island and encouraging activity, fun and reflection on our Biosphere environment and home.
There is a grassy area to play on, and lots of interesting detail to look at, providing an ideal setting for creative activities, treasure hunts and wildlife observation. With colour, fragrance and tactile elements, there is something for everyone to enjoy.
Although global events in 2020 presented challenges for maintaining the garden, many individual plots are up and running, with others set to develop and add even more interest.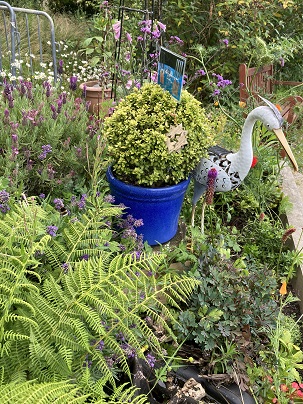 Activities, features and themes since this national garden was created include:
The Ayres; Beach Buddies; UNESCO Biosphere Isle of Man; coastal features; Cashtal yn Ard; churches and saints; diversity; dry stone walling; electric and horse trams; the Green Planet initiative; Island Beekeepers; Isle of Man Rocks; Isle of Man TT; journeys; Laa Columb Killey; Laxey Wheel; lighthouses; local places; Manx Butterfly Conservation; Manx fauna and flora; Manx food, with a range of fruit, herbs and vegetables grown; Manx Gaelic; Manx music, including Isle of Play's entertaining xylophone and 'Mr Blue Sky' (highlighting an award-winning Manx Music Festival performance); Manx stone crosses; Manx Wildlife Trust workshops; mining; national glens; orienteering; people (including Mooinjer Veggey, our Little People, and Fairy Bridge); Rainbow of Colour; recycling and natural resources; sea and shores; Snaefell; space (including solar technology) and Dark Skies; schools, including Ynsagh s'Thie Vannin (Isle of Man Home Education); sporting activities; spring flowers; Steam Packet Company; steam trains; sunsets; toadstool treasure hunt; Trees for Life; Tynwald Hill; Vikings; wellbeing, mental health and mindfulness; waterfalls and woodlands; a wedding; Winter Garden Weekend; wonder.
It's exciting to anticipate what will appear, with all themes open to fresh interpretation and new growth.
But right now, the spectacular wildflower display has to be experienced to be bee-lieved.
So if you fancy a splash of colour in your day and some 'time out' in the wild, pop to this tranquil spot to experience a 2020 vision, the dynamic natural world of this hidden Manx gem…
Note: The garden has been closed during Covid-19 and visitors may see some routine maintenance work happening in the coming weeks.
Manx Words and Phrases for Our Island Garden/Focklyn Gaelegagh son Yn Ellan Ain Garden:
Three legs: Tree cassyn
Isle of Man: Ellan Vannin
Flower: Blaa
Small meadow: Lheeannag
Bee: Shellan            
Bird: Ushag  
Ladybird: Deyllag Vreck
Butterfly: Foillycan
Pond: Loghan
Path: Cassan
Grass: Foghan
Sky: Speyr
Blue: Gorrym
Manx Proverbs for Our Island Garden/Raaghyn Gaelgagh son Yn Ellan Ain Garden:
But you'll have time enough to come and see Our Island Garden?
Agh bee traa dy liaoor eu dy heet as fakin Yn Ellan Ain Garden?
Shall we take a stroll? With great pleasure - come and see the flowers.
Jeanmayd talkal? Lesh taitnys mooar - trood shiu as faik shiu yn vlaaghyn.
It's the finest garden I ever saw.
T'eh yn garey s'aaley honnick mee rieau.
There is gold on cushags here.
Ta airh er cushagyn ayns shoh.
Posted up on 28th July 2020