Jennifer Houghton is July's guest author in the #MyBiosphere series that features in Business 365 magazine, published by Mannin Media:
I moved to the Island in 2004, initially on a two-year contract with a major accounting firm. However, I fell in love with my husband and the Island. 
My 'two-year' stay has now lasted more than 16 years and I consider the Island, along with Sweden, as my home. I feel lucky to live and work here and to be actively involved in the Island community.
The Island has always been beautiful, but the recent Covid-19 crisis has helped people realise just how lucky we are to live here. We have so many beaches, glens, plantations, historic sites and hilltops to roam, and the large amount of open space available to us means that we can explore it while still maintaining social distancing.
It is not just the people who are making the most of the lockdown. The birds seem to be much more active and brazen than usual, and the insects have been given a new lease of life, with fewer car windscreens to be squashed against. Even the seas around the Island seem to be enjoying the reduced traffic, with more dolphins in Douglas bay. We recently saw a baleen whale (probably a Minke) breaching as we were walking up towards Port Jack from Douglas Prom. It breached three times in quick succession and it was over before we could film it.
It looked so spectacular in the blue sea and bright sunlight that it left me speechless (which, for those who know me, was a minor miracle).
We have been making the most of the glorious weather we've had by taking four or five-hour walks from our apartment in Douglas up to the hills around the capital, using the almost forgotten public footpaths, greenways, and back roads to find new places to visit. We now both have e-bikes so can explore even further around our Island home.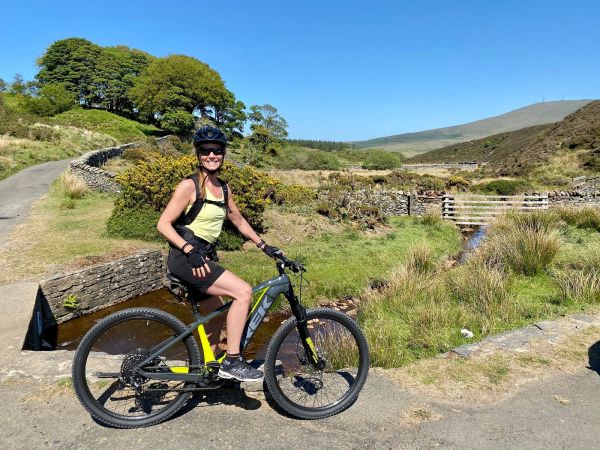 The Island is crammed with beauty, culture and history and it is rightly proud of this and the Island community helps maintain it: from marshals volunteering with the TT (although sadly not this year) to the work of Bill Dale's Beach Buddies and Jaime Amoedo's PlasticBusters, helping to keep the Island's beaches and pathways clear of rubbish.
The Island community has long supported each other, and this has been especially true during this lockdown. I have been lucky enough to be involved with the launch of the Manx Solidarity Fund. The fund was set up to help those who are suffering from this crisis, and we have been overwhelmed by the generosity of the people from this island as they have either donated directly or helped raise funds for who need it the most. 
Christian Varley epitomised the very heart and soul of the Manx spirit by running an amazing 19 marathons in 19 days. He suffered physically and mentally in this challenge, in his desire to help those who are suffering financially in this crisis, and he smashed his original target of £19,000 to raise more than £100,000 (at the time of writing), towards the current fund total of over £600,000.
There are many others raising money to assist the fund, which is already providing direct help to those individuals, businesses and charities who need it the most. 
Although the lockdown is easing, both here and elsewhere, we know that more people will continue to be affected by the global impact of the Covid-19 pandemic and more events are planned to help raise money, so please keep a look out for these and help us help those who are suffering during this time of uncertainty.
Meanwhile, enjoy the Island's beauty, safety, friendly and caring nature. The Isle of Man's UNESCO Biosphere status has been achieved in part because of its natural beauty, but also because of us who live and appreciate this jewel in the Irish Sea.
Tannee-shiu sauchey as gow-shiu kiarail – stay safe and stay well.
Jennifer Houghton chairs the Institute of Directors Isle of Man.
Posted up on 1st July 2020