In the final article in the #MarineMondays tour of our Marine Nature Reserves (MNRs), Dr Peter Duncan, Senior Marine Environment Officer for the Isle of Man Government, writes about the connections between land and sea, the past and the present - and the importance of understanding what lies beneath 'the big, blue-grey wobbly thing' we see from the shore:
West Coast Marine Nature Reserve (Kemmyrk Bea-Varrey'n Clyst Heear) part three.
We're now on the last leg of our marine circumnavigation, travelling south along the Island's west coast from Kirk Michael to Niarbyl, via Peel.
One of the challenges of effectively communicating the marine environment and its inhabitants is that it, and they, are difficult to see, beyond the obvious big blue-grey wobbly thing and the beach. How do we to relate to something we cannot easily see, without becoming a marine biologist? This problem has been approached in several ways.
Certainly the recent improvements and increased availability of high definition imaging has helped show what's under the waves; look at the success of the BBC's Blue Planet series. However, personal technology options like GoPros (in an underwater housing, of course), drone-mounted cameras, even mobile phones enable all of us to take and share our own marine encounters over social media or more specialised platforms. (In fact, if you want to share your marine MNR images online you can use the hashtag #MyManxMNR).
Other options, such as children's rock-pooling sessions and the ever-popular Festival of the Sea touch tanks, are used by Manx Wildlife Trust for raising awareness and providing real experiences of the marine environment. Alternatively, if we can make the sea more relevant, or connected to our everyday lives, then perhaps we can appreciate it more?
Let's start with simple aesthetic appeal. I've enjoyed taking and sharing images of some particularly special, and pretty, marine beasties, but of course that's a personal view, and I know that my fondness for spikey, hard, invertebrates is not shared by everyone.
But for those who do, here are a few I took around White Strand Beach, just north of Peel, while accompanying a visiting marine scientist on his annual survey visits to the Island.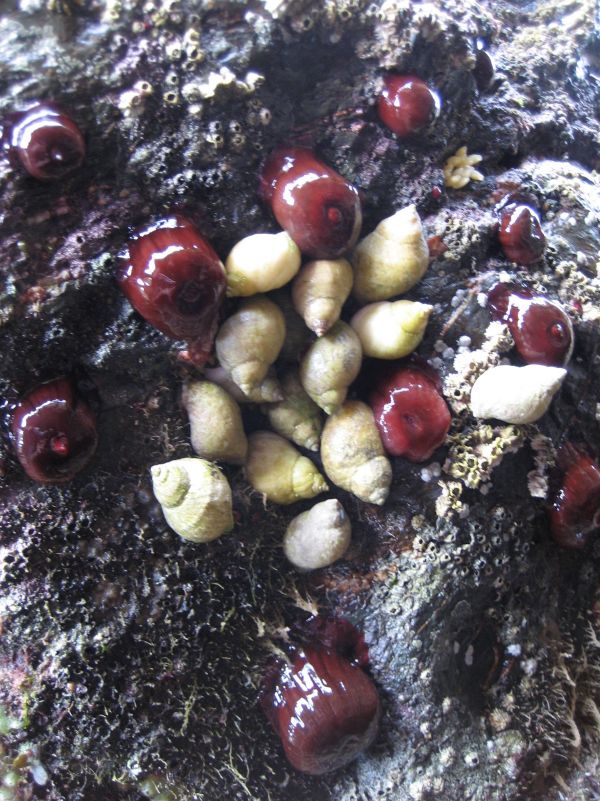 Strawberry anemones and dog whelks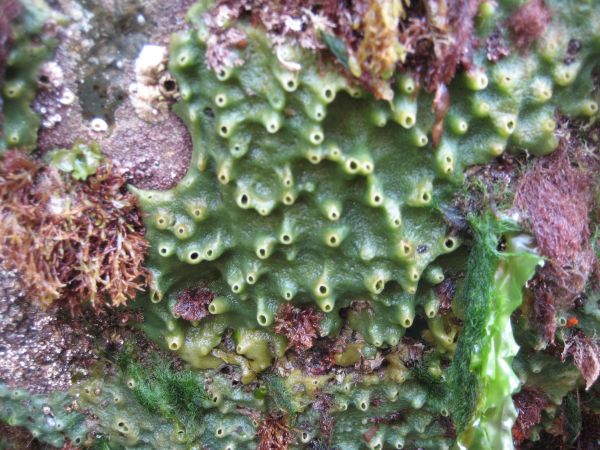 Green breadcrumb sponge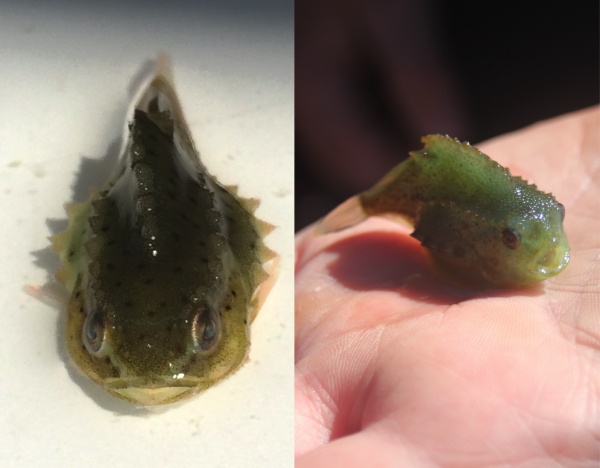 Lumpsucker fish
Steve Hawkins is a professor of Natural Sciences at the University of Southampton, former Director of the UK Marine Biological Association, and has had a long association with the Island, and particularly with the Port Erin Marine Laboratory, where he studied and taught for many years.
Building on earlier work, he began surveying several intertidal beaches in the late 1970s for the presence and abundance of particular species at the same time of year. Over time such records build up a useful and important long-term dataset, which is great for monitoring 'big picture' things like environmental and biodiversity shifts and climate change.
For Government to act, as it has on climate change, it is vital to have supporting evidence for such significant decisions.
Professor Hawkins' work also links to similar studies in the UK, and these bigger data sets allow for more certainty in long-term environmental trends. Its just one way that the Manx marine environment can help contribute information on the changes being observed in the wider world, and enable all of us to help mitigate these effects by supporting Government community initiatives and taking your own actions.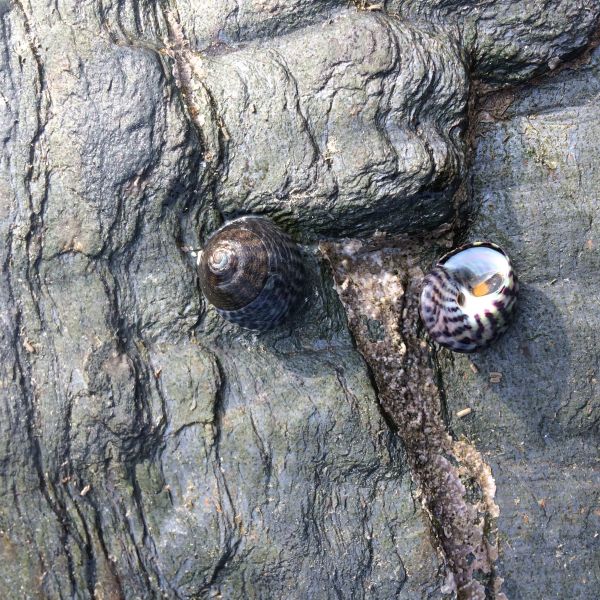 Flat top shell (Steromphala umbilicalis (formerly Gibbula)), one of the main species surveyed in Steve Hawkins' long-term research work
Peel, also known as Sunset City, and the major fishing port of the Island, sits in the middle of the West Coast MNR. It's justifiably famous for its marine wildlife, from the harbour-dwelling black guillemots and grey seals, to near-shore basking sharks, and the recently-resident bottlenose dolphin 'Moonlight' and her Manx-born calf.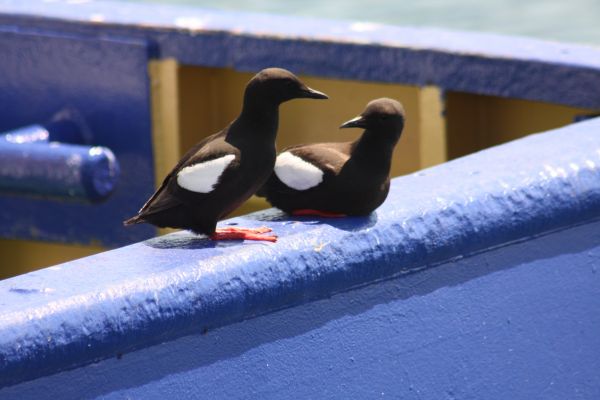 A pair of juvenile black guillemots on a fishing boat in Peel harbour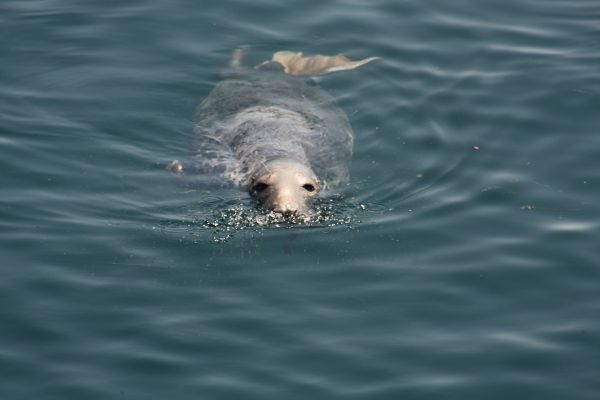 One of Peel harbour's 'resident' grey seals
Perhaps a less well-known, but really important marine site in the area is Peel Hill. This hill is a popular walk from Fenella Beach, and leads to the rather unsightly shell dumping area from the local shellfish processors. The disposal practice is set to stop soon, with a more useful purpose found for the shells, but this change might also benefit the seabirds that roost and nest here, by limiting disturbance and reducing the attraction of rodents that will also take their eggs given the chance.
The list of birds recorded from this site is impressive; common guillemots (the biggest population on the island after the Chasms), puffins, razorbills, kittiwakes, lesser and great black-backed gulls, herring gulls, fulmars, shags, eider duck, oystercatchers, choughs, stonechats, rock pipits, ravens, peregrine falcons, linnets and meadow pipits.
Travelling south along the MNR from Peel Hill, the land-coastal margin is also protected via the Dalby Coast ASSI (area of special scientific interest). As mentioned previously, it's often important to provide conservation linkages between land and sea, because ultimately what happens on land affects the sea, and vice-versa; whether that's sand eels providing food for coastal seabirds, or run-off from the land introducing excess nutrient or silt into the sea. So having adjacent areas on land and sea, where activities can be managed in a coordinated manner, can result in increased benefit.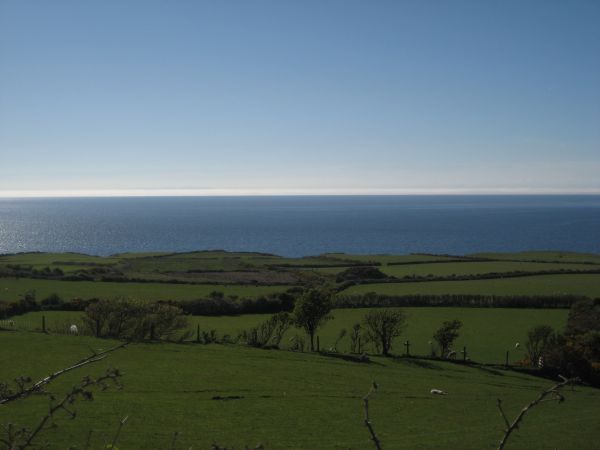 Green rolling hills of the Dalby Coast
The coastal ASSI mirrors the MNR down to Niarbyl Bay, via a particularly pleasant, rolling-green part of the coast. However, this area hasn't always looked like this, and one last coastal feature provides an interesting illustration of ancient history and a sense of perspective for us all.
Just on the north side of the beach at Niarbyl Point stands an interesting geological feature known as the Iapetus Suture (pronounced eye-apetus). Iapetus was the father of Atlas (and also the name of Saturn's third largest moon) but, geologically, it relates to a series of faults caused by the collision of several ancient landmasses, including land on either side of the forerunner of the Atlantic Ocean, known as the Iapetus Ocean, which existed between 600 and 400 million years ago.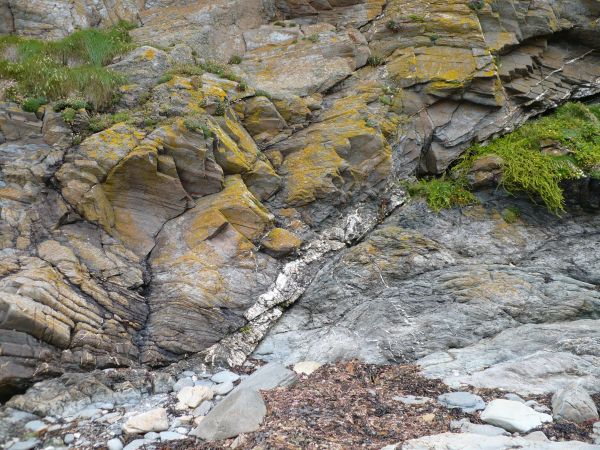 The Niarbyl Fault, part of the Iapetus Suture. Rocks to the top left are common to North America and Scotland, while those on the bottom right are common to southern England
The Niarbyl Fault is an exposed section of the Iapetus suture and is clearly visible as a white streak of quartz separating two different rock groups lying next to each other. The Dalby Group lies on top, and was formed in the ancient continent of Laurentia and shares more in common with North America and North West Scotland. The lower rocks, known as the Manx group, were formed on the micro-continent of Avalonia, and have more in common with southern Ireland and England.
so, while it's not quite accurate, you can sort of stand on two different continents at the same time - one foot in the Americas, the other in Europe.
Geology friends: forgive my generalising.
Perhaps even more remarkably, these Manx group rocks were formed at approximately 60° South, (the latitude between South America and Antarctica) while the Isle of Man today lies at 54° North – that's quite a journey, even though it took around 480 million years to complete.
So, geology is the great leveller, the bringer of perspective; rocks, species, seas, even continents come and go, given enough time – but that's not to say that we should not take care of our environment in the relatively brief period that we are its custodians.
Arriving back in Niarbyl completes our circuit of the Island via the MNRs. The intention of these articles has been to present some of the history and diversity of the Manx marine protected areas.
They represent the highest level of protection for the marine environment, and are intended to provide a mechanism to help balance the protection of our species and habitats (biodiversity) and the recreation, commercial and infrastructure requirements of our Island.
In these articles we've seen multiple examples of how the MNRs enable these interests to interact positively; protected fish stocks inside MNRs support sustainable fisheries outside, separation of mobile and static fisheries benefits both sectors, high natural biodiversity supports recreational fishing and wildlife tourism, linking land and marine protected areas provides greater benefits for both, and MNRs can even provide protection for infrastructure assets such as marine cables.
By deliberately providing space and appropriate management for everything we can achieve long-term, sustainable benefits from a diverse economy and environment – the very essence of UNESCO Biosphere Isle of Man.
So, thank you for reading this #MarineMonday series of articles, which I began on World Oceans Day (8th June 2020).
And please keep watching out for developments in your MNRs, where we'll shortly add a new set of leaflets and activity guides.
Posted up on 17th October 2020