Michael Manning is the new Manx Bard, chosen by a panel of judges including the UNESCO Biosphere Project Officer. He tells us about his life, his love of writing and his aspirations for the year ahead.
Tell us about yourself:
I am married with two children and I have lived on the Isle of Man since I was five. At the age of 15 I left school without any qualifications because I wanted to write. I've written a number of novels (none of them published yet!), articles and a non-fiction book called No King but God.
When I was eighteen I got involved as a volunteer with the work that would become Graih (the Manx word for love; it's a small charity serving those who are homeless on the Island).
I ended up working for Graih in a variety of roles over the next 15 years or so. People are amazing and the relationships I had the privilege of building through the work of Graih have deeply shaped how I see the world and what I view as important. I have had an active Christian faith since my adolescence and the way that this interacts with the world and its promise and problems continues to be a huge influence on my life. Earlier this year I started work as a Healthcare Assistant at the local hospital.
When did you discover and start writing poetry and how did your writing develop?
I can't really remember a 'discovery' of poetry. I have always loved language and have been a voracious reader of everything and anything since a young age. I grew up without a television and we always had lots of books around the house. I suppose I dabbled in writing poetry as a way of expressing emotions and my interest in it has grown slowly over the years.
My view of poetry has deepened as I've seen the power of words to help others glimpse or understand something different. There can be an element of truth-telling to poetry, a naming of something that is good and true and beautiful.
It is also a powerful way of navigating the ambiguity and questions that we have, which is certainly a trajectory I have found useful as my poetry has grown from something very personal to a more public wrestling with some of the contemporary problems that we face. At its best, poetry helps us see the world in a different way.
What inspires your poetry and what topics do you cover?
Emotion lies close to the heart of inspiration for me. Sometimes that is the emotion in my own personal life: expressions of love or wonder or gratitude. Often I am inspired by people on the margins of society and the problems of injustice, be they local or global. Rage at poverty and pain and homelessness and inequality and climate catastrophe all goes into my poetry. I find it a way of questioning our broken status quo, of challenging myself to see the world differently and of seeking to uncover hope for a better way of life. Alongside such anger and hope, my faith as a Christian inspires me to write, drawing on the rich traditions of protest and utopian dreaming found in scripture. I find poetry an invigorating way of bringing some of the ancient hopes and prayers of faith into creative engagement with our socio-political reality. I think this can give rise to surprising new angles of vision and some disturbing questions and ambiguities. I enjoy trying to pose those questions and explore those challenges in my poetry.
The beauty of the Isle of Man is inspiring: there are few places as wonderful as the hills of the island on a sunny day. I read as much as I can and I find that this provides a treasure house of inspiration: the work of other poets and artists, music and songs, literature, journalism from around the world. When working on a poem, I might be struck by a particular phrase or image first and then try and build the poem from there.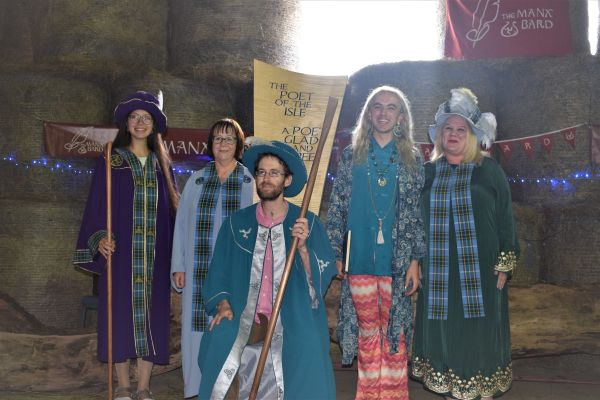 What motivated you to apply to become the Manx Bard?
This year has been a time of great personal transition for me and I have been wondering what new opportunities might be out there. I heard quite late on about applications for the Manx Bard being open and I had an idea for some poems that I would like to share. I thought "why not?" and drew up an application. 
How does it feel to be inaugurated as only the eighth Manx Bard?
I am still somewhat stunned! There's a mixture of excitement and sudden terror at being entrusted with a position of privilege and responsibility. It's a great honour to hold such a position on an island that has a thriving arts scene and so many wonderful poets (including previous Bards). I just hope that I am able to do some justice with the position. In many ways I feel completely inadequate to the task but I look forward to seeing what the year will bring.
At this early stage, how do you feel you will apply your unique interpretation to role of Manx Bard in the year ahead?
I'm not sure how unique my interpretation might be but I'm keen to bring an interest in justice, in politics and in the margins to the role. I hope to engage groups of people who may perhaps be seen or see themselves as marginal, to both inspire and produce poetry.
I hope to be able to write and perform poetry that will be an inspiration and a challenge to the reality we find ourselves in at this time and place. I hope my poetry can be something public and in some way 'useful' to people. I was struck at the concert where I was inaugurated by some quotes from T.E. Brown, the first Manx Bard, including his desire to use poetry to lay down 'thus and thus they lived' (from his Fo'c'sle Yarns, Second Series, Dedication).
In a very different time and sense, I would like to use the year to bear a witness to the 'thus and thus' of where we are now, and how we live, and the lives that are often hidden but speak of precious truths.
The Isle of Man is a wonderful place to live. There are few places where we have the freedom, as such a small polity, to determine who we are and how we live. I think that this brings amazing creative opportunities to find different and better ways of living and working in the world. The island itself occupies a marginal place, a wee spit of land in the sea, and this can be a space of great liberation.
It's early days as I try to think about what my priorities will be and I'm open to people getting in touch with ideas!
What would you say to folk who say 'poetry is not for me' or not relevant to my life?
Anyone who has ever appreciated the lyrics to a song has it in them to appreciate poetry. The two have an affinity.
I would encourage you to try listening or reading to some poetry. Try writing some. The great thing about poetry is that it is subjective. It doesn't have to rhyme. It doesn't even have to 'make sense' to anyone but you, or be shared with anyone else. Just have fun with language.
Poetry is an art form that is vast: there's something there for everyone, from pure silliness and fun to wrestling with and expressing some of the deepest emotions that we have. It's an immense and liberating world. We always need more diversity and more beauty in the world, and good poetry is something that is beautiful.
Who is your favourite poet and what is your favourite poem, and why?
Oh, that's impossible to answer. I enjoy an eclectic mix. Some of Amy Carmichael's and W.H. Auden's poems have moved and inspired me. I very much enjoy some of John Donne's poetry, and the poems of Gerard Manley Hopkins. I don't think I can pick one poet, or one poem.
At a push I would go for Gerard Manley Hopkins's God's Grandeur. It is beautiful and wonderful. It was written in the 19th century but speaks, I think, to both the awful catastrophes of our current climate crises and a sturdy, resilient hope.
Hopkins was an extraordinary innovator of form, rhythm and language. This is an exquisite poem, full of a great and gentle radiance.
The Manx Bard is a Partner of UNESCO Biosphere Isle of Man
Posted up on 22nd October 2022