Zurich International, with the support of Cycle 360, have loaned the Isle of Man Constabulary 10 electric bicycles to help with community policing and road safety work during the Covid-19 pandemic.
The Douglas-based company, a Partner of UNESCO Biosphere Isle of Man, introduced its e-bike scheme to encourage and promote active travel within its workforce.
Employees can use the bikes for team building activities and are encouraged to go on bike rides during their lunch hour or breaks.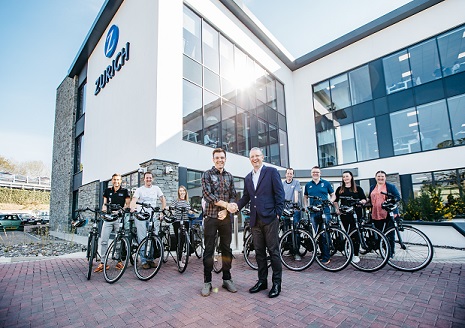 With staff working at home, and the bikes not required right now, they will be put to good use by officers on community patrols around the Island.
In addition, members of the Road Safety Team will also use the bikes to get out and about offering safety advice at a time when many more people are using and enjoying bikes.
The pedal-assisted bikes can travel for 50 miles and can be recharged for as little as 2 pence.
DI Gavin Callow, of the Isle of Man Constabulary, said: 'This is a great example of working with partners in the business community. The loan allows us to do increased patrols on bikes during the Covid pandemic. The electric bikes allow us a greater range of patrol areas whilst being environmentally friendly.'
Photo:
Zurich International launching its Cycle 360-affiliated e-bike scheme. Nearest the camera are (left) Mark Horsthuis, Founder and Managing Director of Cycle 360, and (right) Peter Huber, CEO, Zurich International
Posted up on 12th May 2020