A new woodland is being created at Foxdale Primary School, giving children space to learn about nature and wildlife. Teacher Chris Kirk tells us about it:
The idea to create a woodland came about after thinking of outdoor learning experiences and watching the children play in the wilder areas at the back end of the school field.
We have an enormous field and it made sense to plant up an area of it to grow into a woodland.
A successful application was submitted to the Manx Lottery Trust and, with the support and guidance of Nick Watson, proprietor of Watson's Nurseries at Greeba, a shopping list was put together to provide a rich variety of trees such as silver and white birch, mountain ash, plum and crab apple.
It was intended to involve the children and community plant up the trees, but the Covid-19 situation put pay to that idea.
Instead, a mini-digger on day one and 15 man hours of socially distant back-filling on day two by me, my fellow teacher Angela Guest and the family of Julie Snape, our administrator, saw the 30 new trees safely planted and staked into their new homes at the end of March.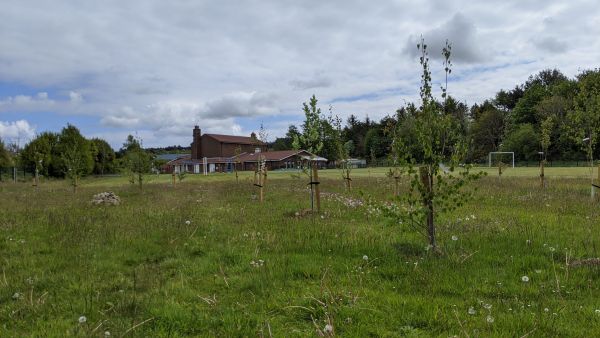 The woodland takes shape
From all the soil and rubble dug up, enough decent sized rocks were excavated to create a cairn.
Now the children are back, we will be adding to it with painted and decorated stones.
The site still needs a bit of a tidy-up as lockdown took a firm hold and led to our closure.
However, this will be a nice job to share once things move on a bit.
The trees are looking healthy and leafy, despite the fact it's hardly rained since April. Volunteers are carrying buckets full of water on the 300m or so round trip to water the trees. An easy task on lap one: not so by lap 10.
As the trees establish, we will be looking out for the impact they have in attracting birds and insects as well as doing projects on tree species, growth and sustainability. These are already on the plans for July.
It's great to walk around an existing wood and think that in about 15 years, our school field could feel like this.
Hopefully, the children will enjoy and appreciate the space now we are back. There have already been a number of emails from children giving it the nod.
Posted up on 20th June 2020