Give the gift of Manx culture this Christmas. We asked the team at Culture Vannin to select Manx books and CDs that make perfect gifts and here are their favourites, all available in independent bookshops and museum shops Island-wide:
Chloe Woolley:
NOLLICK GHENNAL ~ Songs in Manx for Christmas
A must-have music book for the festive season is Nollick Ghennal – a collection of 40 Christmas songs in Manx Gaelic. Nollick Ghennal (Manx Gaelic for 'Merry Christmas'), brings together well-known Christmas favourites which have been translated into Manx, traditional carvals, catchy favourites from the Bunscoill Ghaelgagh, and original songs by local composers. This little book is suitable for children and adults who enjoy singing, whether they're fluent Manx speakers or total beginners.
James Franklin:
Ghosts, Bugganes and Fairy Pigs
Fairies, bugganes, giants, ghosts, witches, Manannan, the devil and more – this is one of the most brilliant and packed books of Manx folklore ever published. Compiled in 1904 by Karl Roeder, these 'Manx Notes & Queries' lay forgotten for over 100 years until Stephen Miller prepared it for print again with new pieces in, reaching beyond folklore into history, language, literature and so many things of Manx interest. It is an endlessly rewarding book which I return to constantly.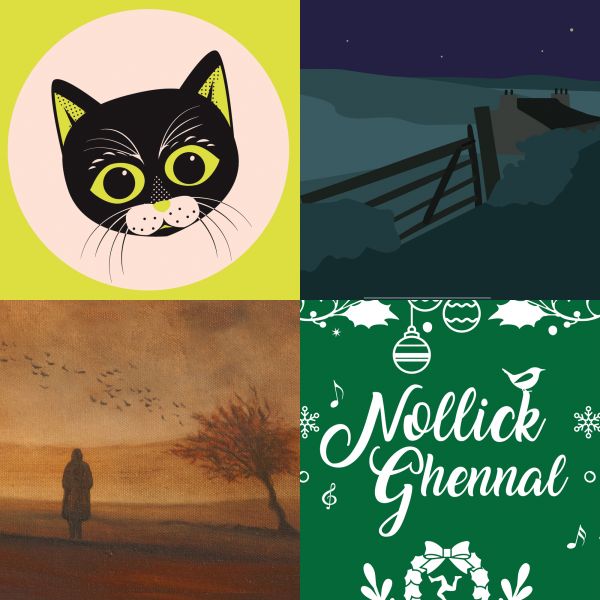 Breesha Maddrell:
Mona's Isle (CD/DVD)
Mona's Isle makes a great gift for anyone interested in the Isle of Man! Featuring newly composed songs in celebration of the life and work of one of Manx culture's most important and energetic figures, Mona Douglas, it brings together some of the Island's finest musicians and singers who weave together threads old and new.  Mona's Isle tells the story of an extraordinary life, a love of the sea and the hills around us, a love of the Island.
Ruth Keggin:
Teach Your Cat Manx
Teach Your Cat Manx is a pocket-sized wonder, helping people (and cats!) everywhere to learn and use handy Manx phrases! With its humorous approach and appealing retro illustrations, the phrase-book is accessible for all ages. You can have fun practising over 60 different expressions, such as 'Vel oo kiart dy liooar?' - 'Are you okay?', and each phrase is shown in Manx and English along with useful pronunciation tips. The perfect stocking-filler... even for those without cats!
Posted up on 10th December 2020