In our regular feature in Business 365 magazine, authors from different walks of Manx life offer a personal perspective on #MyBiosphere. This month, Jane Prescott writes:
I never knew my Manx grandmother, as she sadly died when my Mum was 11. I am sure, though, that she was the reason that we spent all our summer holidays here during my childhood.
They were idyllic times with unbroken sunshine and days spent at the beach or playing at Silverdale. I am sure that we all thought the Island was a paradise of green hills and golden beaches, floating in a sparkling azure sea.
When I met my future husband, Steve, I quickly introduced him to the Island and he, too, fell in love with the beautiful landscapes, sense of community and the culture. We had been introduced across a drawing board when we were both working as landscape architects at Merseyside County Council, and went on to marry in September 1982.
In 1983, our private practice, Prescott Associates, came into being, linked to the Environmental Advisory Unit at Liverpool University. Shortly afterwards, we were given the opportunity to take part in the Ideal Home Exhibition at Castle Mona. Delighted to have the chance to visit the Island, I remember well being on a stand next to household appliances, feeling rather out of place.
The visit did, however, generate our first Manx landscape design work, which gradually increased over the coming years, so that in 1991, Steve and I followed our hearts and moved ourselves and our young son to our beloved Island. Our daughter was born here later that year and we were delighted to have a little Manxie join our family.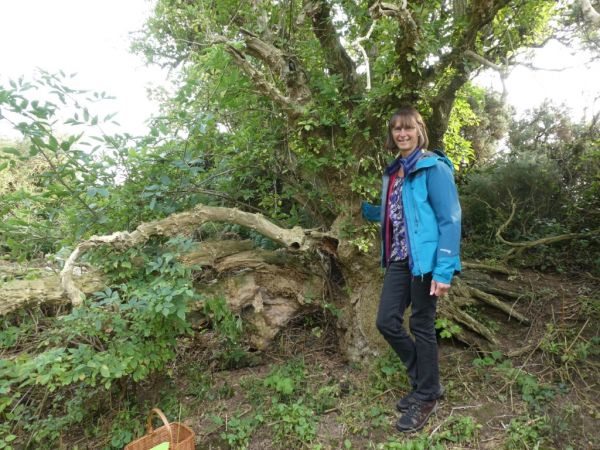 Life on the Island for us and our children proved to be as fulfilling as we had hoped. Steve and I never lost the habit, when we were driving to an appointment through a particularly beautiful spot, of reminding each other that we were actually working in this magical place.
Hopefully over the years, our involvement with the public and domestic projects that we have worked on has helped to ensure that development has been positive, producing well-designed outdoor spaces that work for people, as well as our environment.
Sadly, Steve passed away in 2017, shortly before I completed a new qualification in Herbology, the study of medicinal herbs. My dissertation for this examined whether the model for Biosphere Isle of Man presented opportunities for reconnecting with the Manx tradition of using healing herbs.
There are so many beautiful natural spaces here that I could write about, that have stirred my spirit or settled me in times of stress, but I have chosen a place that represents so much that is special about our Island. This is the garden that I designed as a Millennium project for St John's Mill at Tynwald Mills.
The garden occupies the tender field of the former textile mill, where rolls of cloth were hung on frames to dry.
My brief for the garden was to create a space that tells the story of the history of the Mill, provides a variety of spaces for activities, relaxation and reflection and also demonstrates how gardening for wildlife is good for humans and non-humans alike, a brief that fits perfectly with Biosphere.
Twenty years on, this space has evolved, as they must, but continues to be a well-used and loved public garden that I now use as a resource for workshops teaching about the healing power of herbs and love for our natural world.
Do go and visit when you are next passing.
Jane is a Chartered Landscape Architect and runs design practice Prescott Associates Ltd as well as The Manx Herbalist, which holds events, teaching about the healing power of plants and a relationship with nature. She is passionate about our natural world and how we engage with it.
Posted up on 20th January 2023