It feels like we have plenty of rain in our Biosphere, but we are actually experiencing more frequent drier periods, and demand for water is increasing in the Isle of Man.
With World Water Day approaching on 22nd March, Biosphere Partner Manx Utilities, the Island's drinking water provider, are sharing important messages surrounding wiser rain water harvesting as part of their Use Water Wisely campaign.
The messaging is focused around water butts, which are handy containers that collect and store rainwater to be used in the garden or outside spaces for watering plants and topping up ponds and bird baths.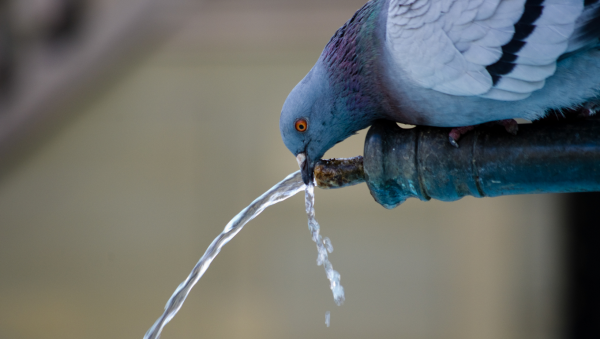 So if you are lucky enough to have an outside space, have you ever considered harvesting rainwater?
The use of a water butt could save you 24,000 litres of mains tap water a year. Conserving this water for our homes also lowers carbon emissions as it requires a significant amount of energy to treat the water to be safe for human consumption.
Here are Manx Utilities' top tips for water butts:
Find a suitable space for your water butt. You will need a flat, firm surface next to a gutter downpipe.  
Raise your water butt off the ground so you can use the tap and fit a watering can underneath. If the water butt does not come with a stand, use bricks, and stack them up to make a stable, solid base. 
Water butts are available in different sizes so make sure you buy the right size butt for the available space. 
Look out for a shady space to help keep the water temperature down and reduce legionella risk.  
Insulate the water butt with a reflective material to reduce the water temperature rising in warm weather.  
Keep a lid on the water butt so that insects and debris can't get in. 
As well as watering your garden, your water butt can also be used to top up ponds, which is far better for wildlife than tap water. 
Use a watering can rather than attaching a hose to the water butt.   
You don't need to buy a water butt, any container will do.  Leave it out to collect rainwater, cover in the drier periods and dip a watering-can in when needed.    
So, with World Water Day and gardening season just around the corner, perhaps you might consider the benefits of a water butt at home, in the workplace or in your community spaces.
To learn more about water butts and harvesting water click here where you will find extensive guidance and advice from Manx Utilities, as well as further water-saving ideas.
Posted up on 12th March 2022