Local STEM charity, Love Tech, is excited to announce the launch of its new Wildlife Challenge in conjunction with Manx Wildlife Trust and UNESCO Biosphere.
This challenge, which is due to take place throughout August and September across eight of our Island's stunning natural habitats, is encouraging young people to get outside and explore nature. Using a smartphone, they can then follow QR codes to make pledges to help protect and nurture the wonderful wildlife and nature in our Island's Biosphere.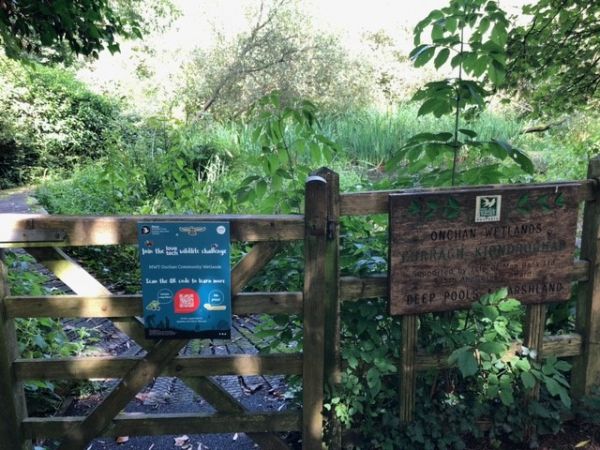 One of the eight sites marked for the Love Tech Wildlife Challenge 
As well as this, 8-12 year olds are being invited to enter a competition to win a 6th Generation Apple iPad mini, 64GB, kindly donated by Manx Telecom, or £50 vouchers for Manx Wildlife Trust's Peel gift shop, kindly donated by Appleby.
To do so, they are being asked to come up with their own, innovative Biosphere pledges. Judges from each of the three organisations will then select their favourite entries and notify winners at the end of September.
 Love Tech committee member, Claire Milne. said "Love Tech has organised this challenge to encourage children and families to sharpen observational skills, get outside in nature and use modern technology to help protect our Island's amazing natural habitats. Love Tech would like to say a big thank you to Manx Telecom for all their support and to Manx Wildlife Trust and UNESCO Biosphere for being such brilliant partners in this, our latest Love Tech adventure."
Clare Barber, MHK and Minister for Environment, Food and Agriculture, said "one of our Biosphere's key aims is to connect people up with nature and help them appreciate, understand and enjoy it. The new Love Tech Wildlife Challenge will allow young people and families to visit some of our most spectacular sites and, using their smart devices, find out information, take a pledge and enter a competition." 
Graham Makepeace-Warne, Engagement Manager at MWT, said "We're thrilled to be working with Love Tech and UNESCO Biosphere, Isle of Man, to launch this great competition to encourage young people to explore our Island's wild places and make pledges to help our wildlife thrive. Technology has become an important tool for ecologists, and we need the next generation to not only value nature but also be experts in how to best utilise technology to support our conservation goals." 
Find out more information here. 
Posted up on 4th August 2023