A passion for promoting our Biosphere and, despite this year's events, now the recipient of a major tourism accolade. This month for our Partner Profile we meet Andrew Foxon, of Go-Mann Adventures:
Go-Mann Adventures is all about exploring the glorious Manx countryside at your own pace.
Offering guided walks, tours and outdoor skills courses, I established Go-Mann Adventures in 2013 to help Island residents and visitors peel back the layers of the Isle of Man.
If coastal walking, strolling through the glens or hiking on the hills is your passion, a guided walk or tour with me will get the most from your day out. If you'd like to learn how to navigate the hills and glens and how to use different maps, or master the mysteries of the compass, I will show you. I'll also help you prepare to stay safe on the hills and know what to do in an emergency.
The physical and mental health benefits of walking in the countryside are well known, and the Island is blessed with a stunning variety of landscapes to suit all abilities. Walking in small groups and chatting about what we see as we go is at the core of what I do. Each part of the Island has a host of stories to tell and the wildflowers, plants, birds and animals we see vary with the seasons and the weather.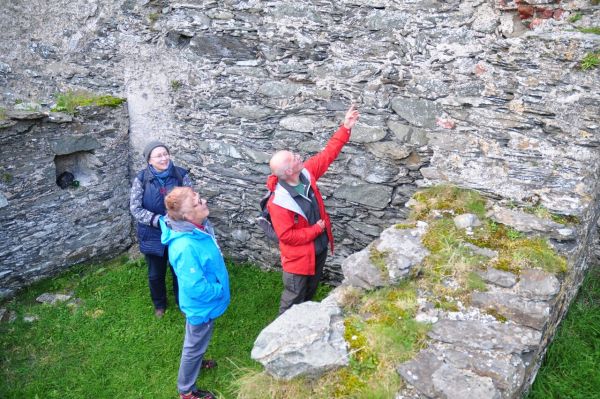 I'm proud to be a Biosphere partner because the natural and cultural heritages of the Island are fundamental to my business. I use 'leave no trace' principles and encourage 'leave only footprints, take only memories'.
We are our stewards for the Isle of Man, and that means we must learn, understand, appreciate, value and care for it.
My commitment to the Biosphere principles includes seeking sustainable visiting, encouraging the use of public transport, using recyclable materials, minimising single-use plastics, doing no damage, leaving no litter - and picking up litter as we go, where possible. When we explore, I want to the countryside to be left as we found it, and ideally even more pristine.
Go-Mann Adventures offers half-day walks, short-day walks and full-day hikes exploring across the Isle of Man.
For those who want to develop their own walking and navigation skills, Go-Mann Adventures is the sole Isle of Man provider for Mountain Training's Hill Skills course and the National Navigation Award Scheme's Bronze and Silver Navigator awards. I lead these courses as a qualified hill and moorland leader.
I am also a registered Isle of Man Blue Badge Tour Guide.
Go-Mann Adventures is proud to have been named the Isle of Man's leading tour operator 2020 by the World Travel Awards.
For Christmas walks, walks in 2021 and upcoming courses see the Go-Mann Adventures website or get in touch.
Website: www.go-mannadventures.com
Email: gomannadventures@gmail.com
Phone: 07624 480129
Posted up on 6th December 2020