A conservation charity is providing an educational opportunity for students.
The Manx Hedgehog Conservation Society not only offers advice to people on what to do when finding orphaned and injured hedgehogs but also educates the public about the animal.
Founder Sandy Moore said: 'As we all find ourselves within our third lockdown it continues to be important that we connect with our children and support their educational needs.
'We are working alongside three Duke of Edinburgh's Award bronze level students from Ballakermeen High School who have taken on the responsibility of fostering Wally, an autumn juvenile hedgehog.
'They are volunteering their time daily to care for, observe and study the habits of our nocturnal garden friends with a release back to the wild soon.'
One of the students, Ed, said: 'I have really enjoyed caring for Wally the hedgehog. It has been a great fun and interesting experience watching him grow and prepare for his release.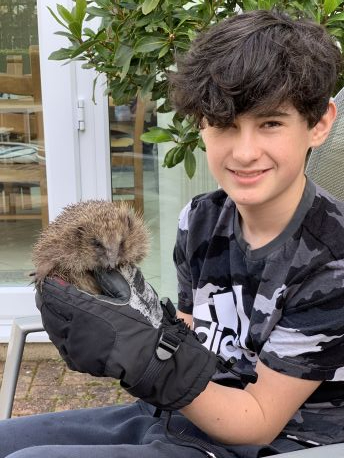 'Since we got him in November of 2020, he has put on lots of weight and is now able to spend time outside foraging for grubs. In many ways we will be sorry to see him leave, but at the same time it will be great to see him released into his natural habitat.'
The charity gives educational talks to schools, youth groups and other organisations.
The charity supports university students with modules of their study and takes part in data gathering across the British Isles.
Its commitment to educating the public about hedgehogs saw it win the UNESCO Biosphere Isle of Man Award for Education and Public Awareness in 2019.
As hedgehogs wake from hibernation, the charity is also inviting members of the public to write poems about the dangers the creatures face and how they can be protected.
Those taking part can learn more about the charity's work via its facebook page or from its leaflet, distributed at talks.
People of all ages can enter poems and there will be three prizes.
Sandy said: 'We are really keen to see handwritten entries along with a drawing or two, as we love children's expression of hedgehogs.
'We feel this is a lovely way of connecting people to our hedgehogs' needs to provide and sustain a healthy ecosystem for them for the future.' 
Entries should be sent to manxhedgehogs@gmail.com or posted to the Manx Hedgehog Conservation Society, 28 Albany Street, Douglas, IM2 3LE by 7th May.
Posted up on 11th April 2021