With World Recycling Day on the horizon, we this month profile burgeoning new local business Recyclecollect.im:
90% of our biodiversity loss is due to the extraction/processing of raw materials. Our earth's resources are finite, and our need to reduce, reuse, recycle has never been more important, so why isn't everyone doing it?
Recyclecollect.im has a mission to improve domestic recycling rates across the Isle of Man.
Over the last 17 months, recyclecollect.im has been providing privately funded kerbside recycling collections across the Isle of Man of plastic, cans, cardboard, paper, glass and, in partnership with IoM Creameries, cartons/Tetra Pak to areas outside of Douglas.
The start-up business aims to make recycling easy and convenient for everyone with their collections, and has partnered up with several sustainably minded Isle of Man based businesses and UNESCO Biosphere to make this happen.
In November 2021 recyclecollect.im was recognised at the Isle of Man Awards for Excellence as the 'Breakthrough Business of the Year', along with being highly commended by IoD Isle of Man, highlighting the importance of this initiative, and the progress the team have made so far.
Recyclecollect.im was designed and developed by husband and wife team Andrew and Clara Isaac in April 2021. Both passionate about the environment and sustainability, they wanted to use their skills and experience to help make recycling accessible for everyone.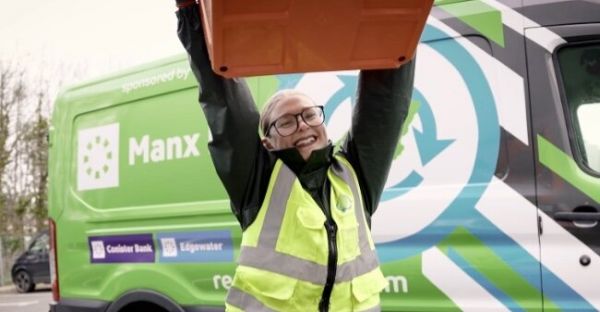 The online management system and user interface automates administration and provides a platform for user feedback, interaction and education. Recyclecollect is also active on their webpage and social medias, engaging the Manx public and making recycling information readily available and easily accessible. The team regularly attends businesses, schools and community groups around the iIland to talk about recycling and its kerbside initiative.
The fortnightly kerbside recycling collection starts from just £1.99 per week/£3.99 per fortnight billed monthly. If you live in Santon, Arbory and Rushen you receive a 33% discount as a result of partnerships with those areas' commissioners. 
Recyclecollect now collects from more than 720 homes Island-wide, picking up 8.5 tonnes of recyclables each month from people who cannot get to amenity sites or bring banks themselves, along with busy professionals and families, but also people who really want to support that recycling should be the norm in our households.
Clara says: 'I cannot be more proud of the progress that Recyclecollect has made over the past 22 months. It really is a kerbside collection like no other.
'Our processes and team have adapted and grown with the initiative to get it to where it is today, and there is still so much more to give.
'Recyclecollect presents an amazing opportunity for the Isle of Man, and we are delighted to be working alongside Santon, Arbory and Rushen Parish Commissioners along with like-minded partners to improve recycling here on the Isle of Man.
'We would love to collaborate with other areas across the Island to fully utilise the potential of Recyclecollect and increase the Island's recycling rate.
'Recyclecollect are also excited to announce their partnership with The Prospero Group to provide commercial recycling collections, and urge companies to get in touch at hello@recyclecollect.im for quotes and further information.'
Clara adds: 'We all want the best for our future generations, we don't know where they will end up or what they might influence, but providing them with the tools to lead a sustainable lifestyle and implement more sustainable practices is a small request with rippling effects.
'I really hope that Recyclecollect.im can play a key part in relaying how important it is to reduce, reuse and recycle and assisting with understanding Island-wide.'
For more information or to register your interest, visit www.recyclecollect.im
Posted up on 1st February 2023