Organisations contributing to a more sustainable Isle of Man were recognised today at the fifth UNESCO Biosphere Isle of Man Awards.
The awards celebrate those contributing to the UNESCO Man and the Biosphere Programme's global aims of sustainable development, conservation and education.
They are organised in line with the five Es of UNESCO Biosphere Isle of Man's local strategy, 'Working Together for a Sustainable Future'.
Alf Cannan MHK, Chief Minister and Chair of UNESCO Biosphere Isle of Man, told the awards ceremony that humans faced unprecedented threats and challenges and the Isle of Man Government is committed to playing its part in a better world via commitments in the Island Plan.
'Government must play a major role, but it cannot work alone to progress actions that benefit our planet,' the Chief Minister said.
'The input and innovation of everyone – from large organisations to individual citizens ­– will be increasingly important.'
The Chief Minister told entrants: 'You are here today because of your impressive contribution to that sustainable future.
'It may sound like a cliché but to me that means you are already winners.
'The range of projects and the impact of work that is under way is hugely inspiring and these awards provide an opportunity to showcase these.
'Your positive work not only contributes to a sustainable future – it influences and inspires others, which is the lasting legacy of these awards.'
The economy award goes to Ravenscroft (IoM) Limited for ethical investments that allow the company to invest some of its fees back into biodiversity and conservation.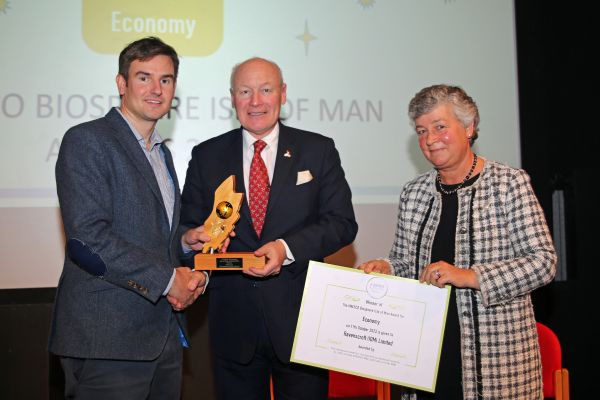 The education winner is Bunscoill Ghaelgagh, for a soil to plate study that saw it visiting a farm and serving its own vegetables at a Biosphere-themed picnic.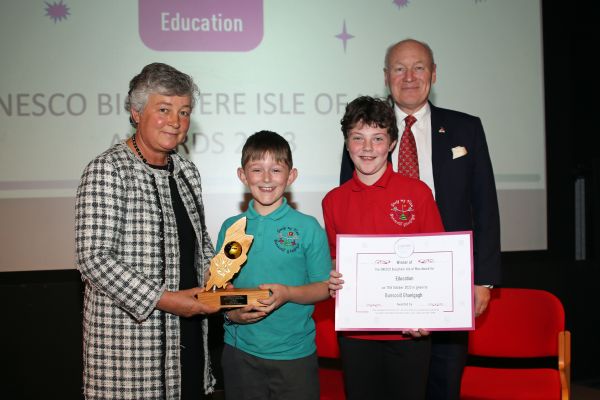 The energy award went to Zurich on the Isle of Man for extending its office energy initiative to a new level and also supporting employees to make home energy improvements and exploring newer green energy sources at its headquarters.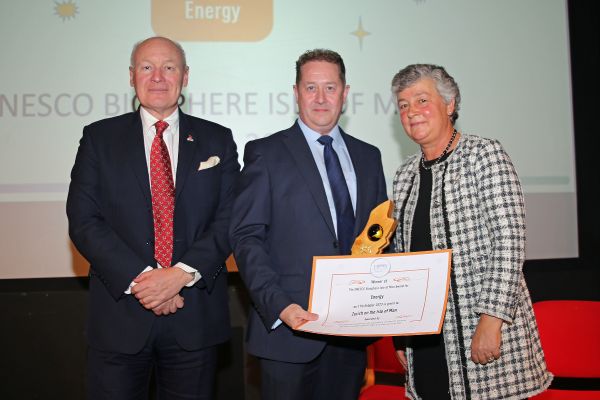 The engagement winner was Reuben Armstrong and Tom Durrant, a 91-year-old grandfather who is one of those leading the refurbishment of the Queen's Pier, Ramsey, and his filmmaker grandson, who has created the film 'Grandad and the Pier'.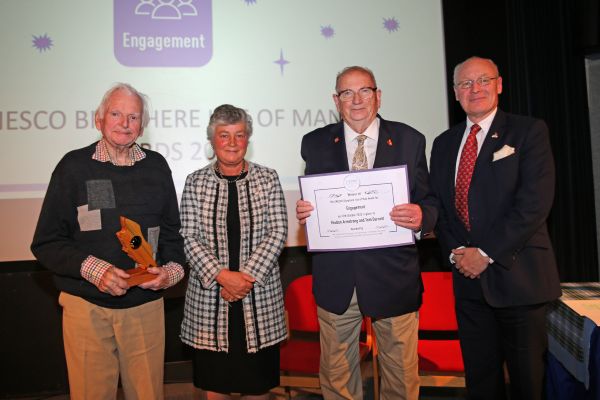 The enjoyment winner is Manx Bluetits, who bring people together to swim in all weathers, improving health and wellbeing, connecting people and having fun in wild environments.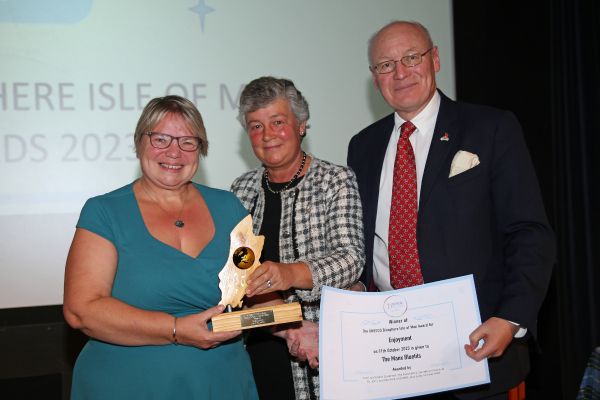 The environment award goes to Mann Waste Recycling, which provides tailored recycling and education programmes for businesses, also helping reduce single-use plastics.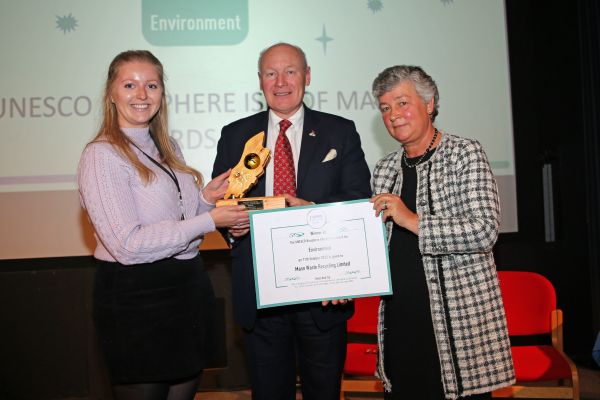 Winners were chosen by a panel of judges from Government and the private and third sectors, chaired by Dr Michelle Haywood MHK, Political Member for Environment for the Isle of Man Government.
The beautiful, hand-crafted, awards were presented at a ceremony at the Manx Museum by the Lieutenant Governor, His Excellency Lieutenant General Sir John Lorimer KCB DSO MBE, and Lady Lorimer MBE.
Winners will be eligible to use a special logo, as well as featuring in next year's promotional video.
Chief Minister's full speech.
Winners' full summaries:
Economy: Ravenscroft (IoM) Ltd
Ravenscroft hopes to lead the Manx investment industry into an era of sustainable prosperity where portfolios focus on investments that are aligned to the Paris Agreement and the Global Biodiversity Framework. Its Global Solutions Sustainable Growth Portfolios invest in sustainable global equities, green bonds, responsibly sourced materials and sustainable infrastructure. And it is setting aside a percentage of management fees for conservation and biodiversity projects.
Education: Bunscoill Ghalegagh
Pupils of the Manx language school learned about the importance of soil and composting as part of their environmental curriculum. This included a visit to Belle Abbey Farm to learn about regenerative farming and plant trees. The school has a home/school composting project to provide organic growing for the school garden. It served its home grown vegetables at the school's Biosphere Bee Community Picnic, held for pupils, their families and Manx speakers.
Energy: Zurich on the Isle of Man
Building on the success of its award-winning solar panel project, which generated almost half its power in the year to July 2023, the company has rolled out a Sustainability At Home initiative offering employees interest-free loans to help them invest in renewable energy and energy saving technology. It is also investigating wind power and battery storage.
Engagement: Reuben Armstrong and Tom Durrant
Reuben is a talented young filmmaker, while his grandfather, now 91, is an environmentalist who has been instrumental in seeing the Queen's Pier, in Ramsey Marine Nature Reserve, restored. In Grandad and the Pier, Reuben made a moving and highly personal cinematic documentary about the restoration project and those behind it. Shot over five years, it is touring local and UK locations and raising money for more work.
Enjoyment: Manx Bluetits
A fun social group with a serious purpose. Manx Bluetits enjoy swimming in Manx waters in all weathers – hence the name - seeing the Island from a whole new perspective, connecting people up and enhancing physical and mental wellbeing. The group treasures the environment and leaves only footprints, often improving its environment and taking home litter.
Environment: Mann Waste Recycling:
Mann Waste Recycling Limited provides individually tailored recycling programmes for businesses, also educating them on their recycling responsibilities and how they can exceed their recycling targets. The company also collaborates with amenity sites on the Island to drive the recycling of plastic bottles with the aim of drastically reducing oil-based single-use plastics in our Biosphere.
Posted up on 11th October 2023