Jane Critchley, Head of Special Projects, Creativity and Social Inclusion at the Department for Enterprise, tells us about a community initiative that aims to celebrate creativity and togetherness in our Biosphere.
'Celebrating Creativity Together' is a community project, providing a shared purpose and focus by showcasing art and providing platforms for socially inclusive imaginative expression. The project is supported by the Department for Enterprise and the Isle of Man Post Office, both UNESCO Biosphere Isle of Man partners.
The project includes a diverse range of stakeholders who have hosted exhibitions at the Douglas Town Hall, Quayles Hall and Age Concern in Ramsey and the Family Library in Douglas. A booklet has been created to explain more about the project and a video has been produced which enables many voices to be heard. 
The four exhibitions were aligned by music composed by Tim Price, including a symphony called 'Gem of God's Earth' which celebrates the Island's beauty and explores how this supports creativity. Tim said 'We have such varied scenery, and there is so much to see, from dramatic coastlines and rolling hills down to tiny wildflowers. Walks can often spark off new musical ideas.'
Artist Michael Starkey said: 'In 2009 I painted a street mural in Ramsey and nature has lent a hand by adding moss to some of the trees. I am inspired by sea swimming and could not paint without nature, walking and the sea. I use non-toxic paints and organic and natural materials and enjoy painting on items which have been found in nature. I like to make art useful and create everyday items, for example I recently painted 27 paper bags which can be used as gift bags and formed part of the exhibition.'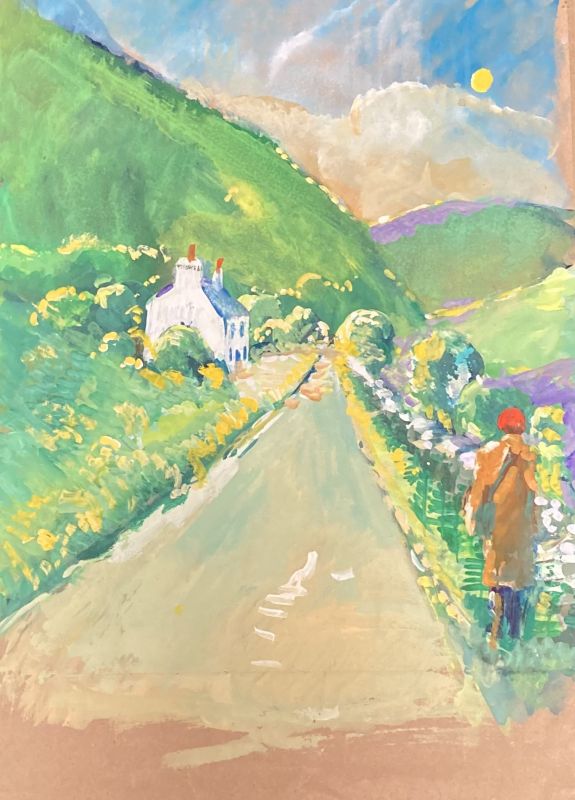 One of Michael Starkey's painted bags
Artist Chris Berry said: 'I established 'Marrey' which is Manx for 'of the sea' and I create handcrafted birds, boats and trees from driftwood, which is washed up and collected from the Point of Ayre. This is inspired by walking by the shore looking for interesting things and transforming them into something new. I once found a bleached pallet which had washed ashore, it is amazing what the sea throws up.'
Wendy Shimmin of the One World Centre said: 'The One World Centre is an education charity that is committed to making the world a better place for people and the planet. We run innovative and engaging projects to help raise awareness of global issues and how we can respond positively. These include an annual public art competition based on the UN's Sustainable Development Goals, a schools poetry slam and using performing arts and music to explore environmental issues.'
'Celebrating Creativity Together' has been supported by the Northern Dippers sea swimmers, Margaret Webb and Fiona Barlow said: 'As we step out of the sea, cares and worries slip away…the energy and community spirit born in the sea has been transferred into the Quayles Hall community project.'
Posted up on 21st November 2022