Farmers Chris and Steve Martin write about improvements for wildlife they are making with help from the Isle of Man Government's Agri-Environment Scheme:
The Department of Environment, Food and Agriculture (DEFA) has brought forward a new Agri-Environment Scheme, providing support to active farmers for targeted initiatives that produce conserved and cherished landscapes, enhance biodiversity and sequester carbon.
Smeale Farm is a 240-acre farm in the north of the Island growing milling wheat for our local Laxey flour; oats, barley and peas for animal feed and keeping 320 ewes for prime lamb production.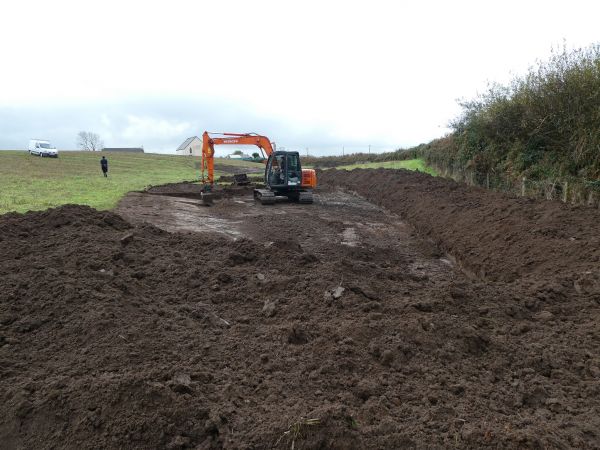 We were pleased to apply for funding under this initiative, which will add to the existing wildlife conservation areas on the farm.
Our particular scheme involved digging out two new dubs (ponds) within a 1.6 acre fenced off corner of a field and within that, planting 1.2 acres with 550 trees, mostly native broadleaved such as oak, alder, hazel, willow, elm, alder buckthorn, silver birch, rowan, hawthorn, blackthorn, holly and a few Scots pine.
This was such a great collaboration with DEFA supplying the grant funding; Manx Wildlife Trust supplying the advice through David Bellamy, its Agri-Environment Officer; Steve Prescott supplying the trees through Manx Native Trees; the IoM Woodland Trust supplying the planting expertise and all the equipment, the wonderful volunteers supplying the planting labour and us providing a suitable site in a less productive corner of a field.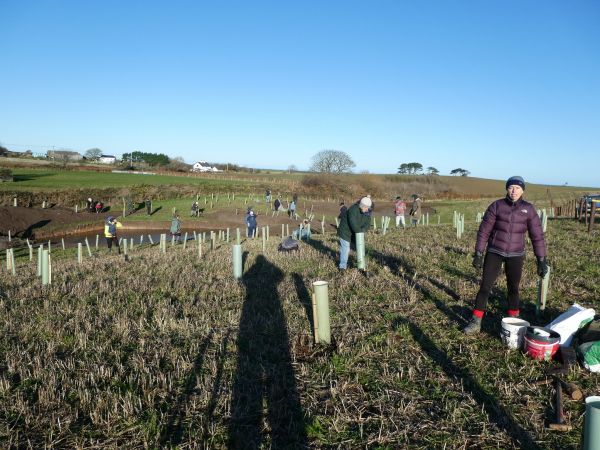 The Sunday we planted was a beautiful, sunny, day and more than 50 volunteers turned up, meaning Steve Prescott had to quickly transport more saplings to the site.
We were especially pleased to welcome DEFA Minister Clare Barber MHK to the planting to enable her to view the fruits of her Department's scheme at first hand and to meet all the people involved.
She and her boys got stuck in with everyone else for the full planting session which was so refreshing to see. We were also delighted that Daphne Caine MHK, Chair of the Climate Change Transformation Board, found time to join us.
We hope this will encourage other farmers to find similar, less productive, corners of their farms to create new wildlife habitats as well.
Posted up on 7th January 2022