Leigh Morris, CEO of Manx Wildlife Trust, pays tribute to the charity's outgoing Chair and invites applications for the exciting volunteer position:
Viv Davies, our Manx Wildlife Trust (MWT) Council Chair, is stepping down at Easter after an extended, and influential, term of office.
MWT relies heavily on the support of our army of volunteers who do everything from maintaining nature reserves to running the Nature Discovery Centres at The Ayres and Scarlett and our Peel Gift Shop. Our volunteer Council of Trustees (Council) provides the strategic direction and oversight for MWT.
The Chair of Council leads our Council and our strategic process and represents us at a strategic level. They are key to us delivering our mission 'to protect and enhance our environment, create more spaces for wildlife, and inspire people to act for nature, and our work across the whole spectrum of Manx nature, from our marine environment to the Agri-Environment Scheme.
It has been a delight to work alongside Viv since I joined MWT at the beginning of 2020; we have achieved some amazing milestones together, not least the taking on of the Island's Agri-Environment Scheme delivery and the launch of our first adult education courses including wildlife gardening.
It was great for us to be able to give the students their course certificates recently at an award evening, which included our 2021 Volunteer Award winners, at Greens in St John's. This is surely one of the many benefits of being at the head of such a great organisation.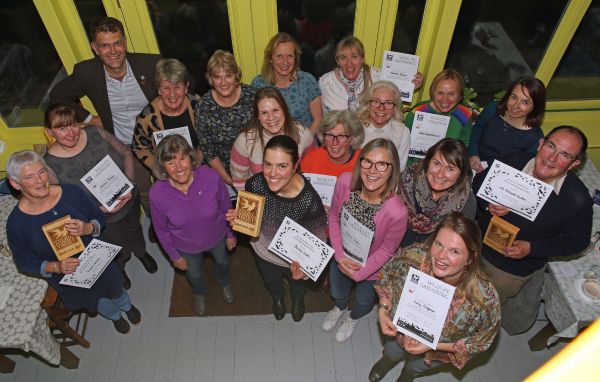 Photo: Leigh (back row, left) and Viv (front row, third from left) along with volunteers and course students at the annual awards ceremony at Greens (Graham Makepeace-Warne)
We must look forward, and we need to recruit our next Chair, who can continue this momentum into the next 10 years, a period that many are billing as the 'decisive decade' for the survival of life on our planet.
This is an exciting opportunity to be a leader in environment and nature conservation within the Isle of Man Biosphere, at a crucially important period for our biodiversity and climate change mitigation.
We are seeking a highly personable, organised, and competent individual, with exemplary communication and leadership skills. Could that be you?
You can find out more about the position and how to apply here.
Posted up on 31st December 2021