'Conservation work can take a long time get right and saving some of our more endangered woodland wildflowers is no exception.' Andree Dubbeldam, writes about how a Wildflowers of Mann project is paying off, with 10 species now flourishing in Ramsey Forest:
What's the problem?
This stems from the fact that most woodland wildflowers like semi-shaded conditions: not too dark, but sheltered, humid and not overgrown. 100 years ago our few Manx woodlands were just like this. While we have increased woodland cover from less than 1% of the Island to nearly 10% in the past century, our woodlands are much darker places and many wildflowers like the field rose and the three nerved sandwort have gone extinct on the Island. Many others such as wood melick, wood fescue and wood vetch are on the verge of Island extinction.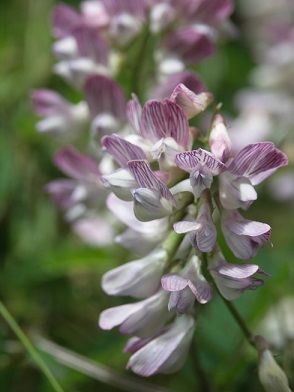 Wood Vetch has declined from dozens of plants just 30 years ago to fewer than 10 now
What have we done about it?
The Wildflowers of Mann Project realised there was an issue and, by 2008, started systematic surveys of our woodlands to find out the state of our woodland wildflowers. After years of survey, we had a good picture of which species were in trouble and what needed to be done. The answer was dramatic: we needed a forest! Ramsey Forest was launched as a project to connect and manage native woodlands in 2014.
By 2015, we had started creating a bespoke habitat for our rare native plants south of Ramsey. By 2016, our first 10 rare species, which we had carefully grown from seeds and cuttings, started to be planted. Three years later, the first of our seedlings have grown to small plants and are rapidly spreading in ideal conditions.
What happens next?
The woodland we have planted will soon need managing to keep creating open spaces for our rare plants to flourish. We will start this phase in 2020. More than 10 years' work is starting to pay off.
Posted up on 2nd December 2019