Biosphere Partner The Creative Network is celebrating its 10th anniversary. In our August Partner Profile, Maureen Kennaugh looks back on how it has grown.
2022 marks the 10th anniversary of The Creative Network, a collective of more than 60 artists based on the Isle of Man. This network is a not-for-profit organisation, run voluntarily by artists for artists, with the aim of supporting creative individuals and promoting visual arts among today's Manx community and beyond.
The network is best known for organising an annual all-island Isle of Man Art Festival, where members are invited to open their studios to the public, exhibit in joint venues, offer try-outs, run workshops etc. This festival is to become a biennial event to allow for other events to be organised.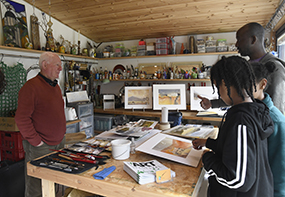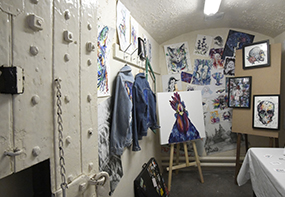 Ronnie Doyle in Frauke Watson's studio with visitors during the 2021 Isle of Man Art Festival; Karolina Pawlowska's display in the Old Police Station in Castletown

Besides the festival in 2021, The Creative Network organised its first major themed exhibition. Members were invited to submit work on the theme of Boundaries. The final exhibition was selected by guest artists and staged at the House of Manannan over six months. The exhibition was supported by a substantial exhibition publication which was part funded by Culture Vannin.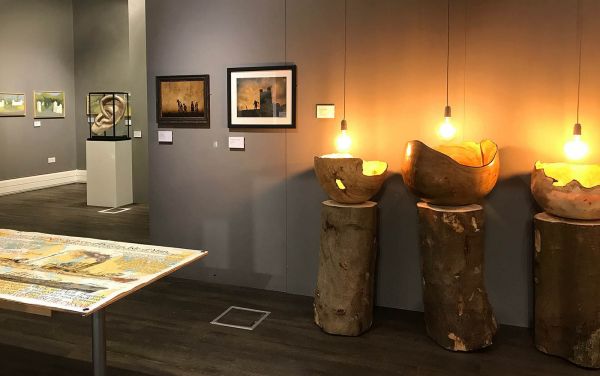 The Boundaries exhibition at the House of Manannan
In this 10th anniversary year, the network is concentrating on the development of a permanent Art Trail along the Silverburn River in the south of the Island from Castletown through to Silverdale Glen. The aim of the trail is to provide a new space in which art can be experienced, to highlight an under-utilised but beautiful Manx footpath and glen and to attract more people to enjoy our wonderful Manx Biosphere.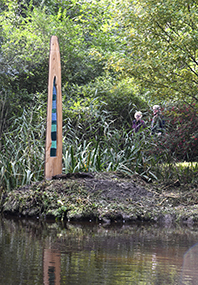 Jill Gillings' sculpture, part of the Silverdale Art Trail
This project has been generously supported by the Manx Lottery Trust Community Fund, which has provided funding for a number of new artworks to be commissioned for the trail. A number of workshops for children and adults will take place around the trail this summer, kindly supported by the Isle of Man Arts Council (please see our Creative Network facebook page for up to date details).
The anniversary has also been celebrated by a stamp issue by Isle of Man Stamps and Coins. The work of 10 members was selected to feature on the stamps themselves and all other of the current 60 artist members have work featured on the supporting stationery. 
A short public exhibition of members' work was held to round off the 10th anniversary celebration. This short exhibition took place at Artreach Studios in Peel this month and featured the original artworks behind the anniversary stamp issue.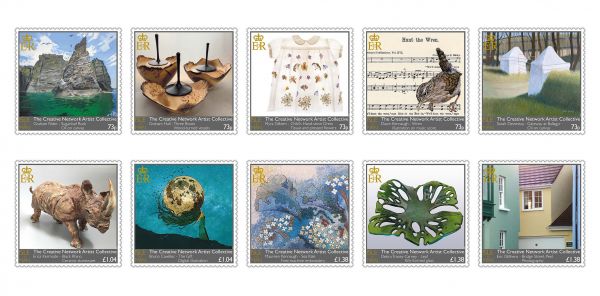 The 10th anniversary stamps issue
For information about The Creative Network and its forthcoming projects please see our website and facebook page.
Posted up on 19th August 2022