A project exploring the work of writer Malcom Lowry and his links to the Isle of Man and will feature at the Liverpool Maritime Museum, Dr Alan Dunn, one of those leading it, tells us more:
In the 1950s, Wirral-born Lowry used the sea and the Isle of Man as inspiration to call for greater concern for the natural environment.
In his story collection, Hear Us O Lord From Heaven Thy Dwelling Place, (named after a Manx fishermen's hymn), Lowry explored the threat of industry to our environment and he used the Isle of Man, which he visited as a child, as a symbol of hope and natural beauty.
Sailing between Liverpool and the Island, a network of artists, musicians, environmentalists, poets and members of the public are creating a series of podcasts in relation to plastics, pollution and how we can protect our oceans.
The project, which takes its title from the story collection, is a collaboration between Leeds Beckett University, Liverpool John Moores University and the contemporary arts centre Bluecoat, and is led by myself, Dr Helen Tookey and Bryan Biggs, and is supported by an Arts and Humanities Research Council grant.
During our first visit to the Isle of Man in September 2021, we met up with the charity Beach Buddies to collect plastic from Peel beach and the Isle of Man Steam Packet Company kindly let us make recordings down in the engine room of the ferry.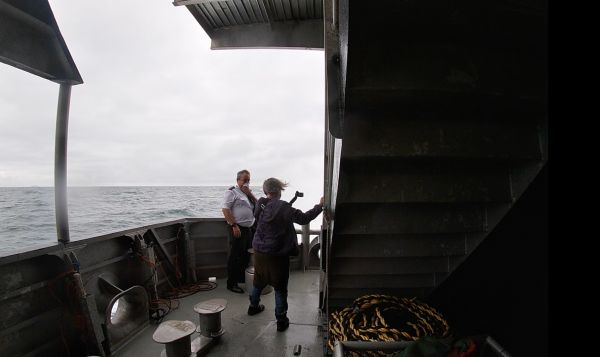 Artist Louise K Wilson filming on the Steam Packet boat in 2021
We returned this month. Two of our researchers, Liz Stirling and Alison McIntyre, are known as The Art Doctors, and they explore engagement with the arts and social prescription. During our journey over they invited passengers (including some famous comedians who were on board) to think about the sea and Lowry's words.
We spent time with Clara Isaac from the company recyclecollect.im and Dr Richard Selman, Head of Ecosystem Policy at the Department of Environment, Food and Agriculture, outlined the extraordinary vision for the Island in terms of its UNESCO Biosphere status.
We see real connections between Lowry's writings and our use of sound to help create new ways of thinking about plastics and sustainability.  
Another of our researchers is Chris Watson, one of the world's leading sound recordists who has worked with Sir David Attenborough, experiencing how humans have altered the sound of this planet and impacted upon wildlife.
This was Chris' first visit to the Island and he was amazed at the quality of underwater recordings of shrimp he made.
Our third and final planned trip will be the weekend of 10th/11th September 2022 and we are very open to new collaborations.
I can be contacted via A.Dunn@leedsbeckett.ac.uk
All the research will be made available via www.malcolmlowry.com and the Liverpool Maritime Museum is designing two permanent displays around the research to introduce it to an even wider public.
Cover photo: Alan Dunn with toy Lego boat, given to him by his grandfather, who built real ships on the River Clyde, introducing new Lego users to environmental issues.
Posted up on 18th April 2022