Explore the Isle of Man Biosphere's 10 Marine Nature Reserves on #MarineMondays. This week, Dr Peter Duncan, Senior Marine Environment Officer for the Isle of Man Government, takes us to Port Erin Bay: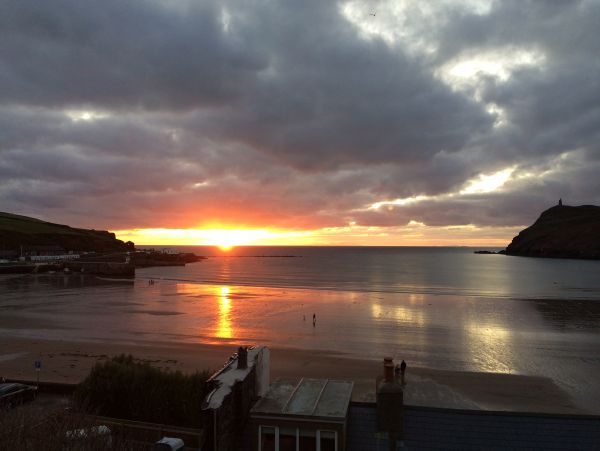 The Island's oldest marine protected area is special for many reasons. It faces directly west and seems to act as a funnel for wind and wave – strong enough to have broken down the old breakwater in 1884 and persistent enough to create one of the Island's best sandy beaches.
Port Erin Bay was chosen as the site for the Liverpool Marine Biological Committee's laboratory in 1892, initially at Chapel (or Mortuary) Beach, then moving in 1902 to its more familiar location.
The Port Erin Marine Laboratory (PEML) was subsequently taken over by Liverpool University and the bay and surrounding seas became an international focus of marine research for over 100 years.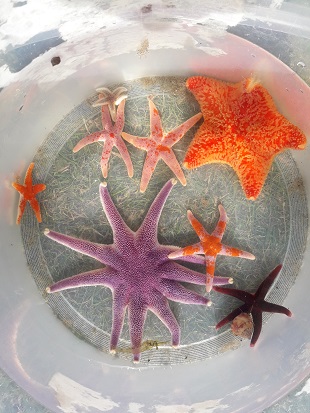 Seastar diversity from Port Erin Bay
Consequently, much is known about the bay, its beasts and its algae, and this work provides a valuable baseline from which to compare current conditions.
Indeed, the sea surface temperature records had been, until recently, collected continuously in the bay since 1904 and is one of the data sets used to monitor climate change, as well as featuring internationally on the NOAA Fisheries project website; www.st.nmfs.noaa.gov/copepod/time-series/im-10101/
The bay's history as a protected area began in 1989 to enable scallop fishery and aquaculture research by the Port Erin Marine Laboratory. 
Beginning as a small area of 2 km2, it developed in a series of expansions, culminating in its current 4.3 km2 area in 2012.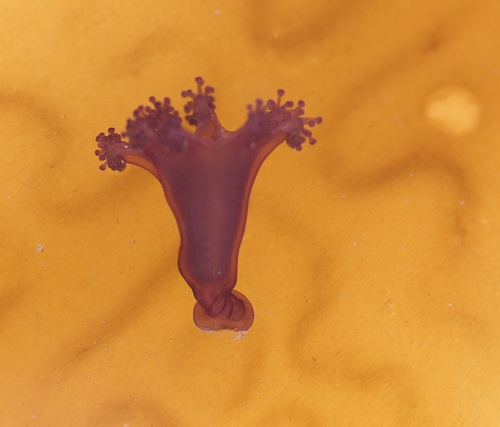 Stalked jellyfish (Craterolophus convolvulus) on kelp, Port Erin Bay
Its primary role over the last 30 years has been to protect adult broodstock and maximise larvae recruitment onto offshore fishing grounds, a concept supported by both researchers and fishermen.
The area was re-designated from a Fisheries Closed Area to a Marine Nature Reserve in 2018, but still functions to support both fisheries and biodiversity.
The main conservation features of Port Erin Bay MNR are as diverse as the habitats found there; from rocky reef to sandy shore, from plunging cliffs to kelp forest.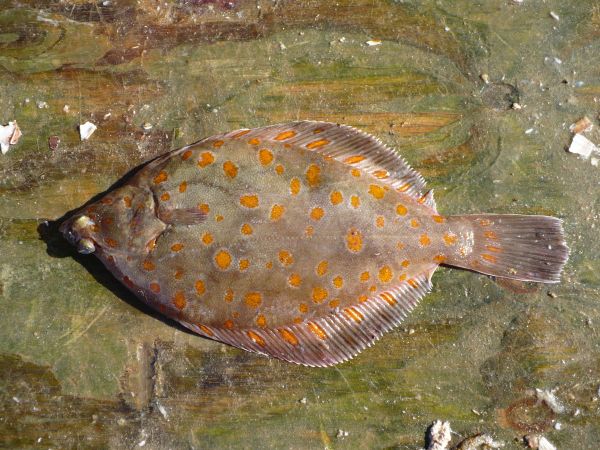 Port Erin Plaice
To namedrop a few fantastic beasts, there are octopus, lobster, plaice, stalked jellyfish, brittle star beds, the incredibly long-lived Iceland clams, breeding sites for fulmars, gulls and ravens, and the occasional summer visitors of basking shark and bottlenose dolphin.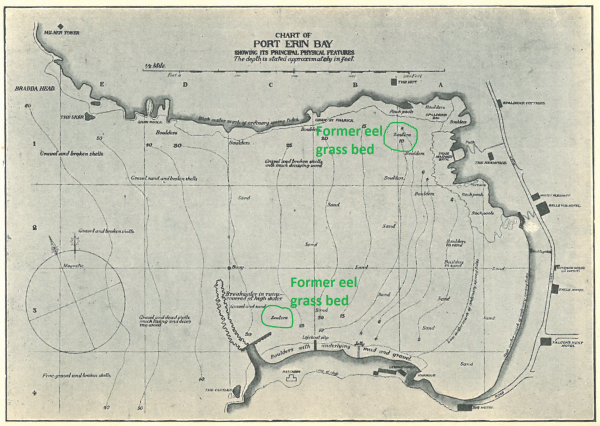 1919 map of Port Erin Bay showing marine biological features
One of the early PEML marine lab maps from 1919 showed the presence of two areas of eel grass: one off Spaldrick and another just inshore of the breakwater.
Plans are now afoot to find out if the bay can, once again, play host to this important marine flowering plant and enhance its already impressive diversity.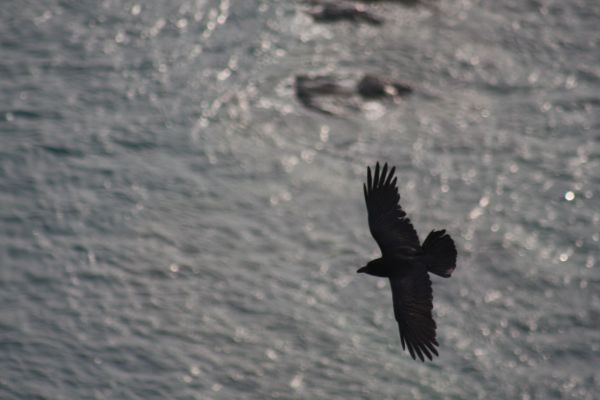 Raven flying over Port Erin bay from Bradda Head
Find out more about the Isle of Man's Marine Nature Reserves here.
Posted up on 14th June 2020