A small group has taken the initiative to help clear pollution present at difficult to access areas of our coastline. Adrian Carbery writes about its work.
We are a small, but growing group, of independent, like-minded, people who spend much of our free time in and on the sea around the coastline of the Isle of Man. 
Amongst us are freedivers, coasteers, kayakers and general lovers of the outdoors. We enjoy the beautiful Isle of Man waters and coastline as a relaxation from the daily stresses of being business owners and business managers, among other professions.
However, the more we explore the coastline, the more we have become saddened by the terrible state of pollution that is present there.
This includes plastics of all shapes and sizes, tins, cans, aerosols, rubber products (including tyres), biomedical waste (syringes), hazardous oil and chemical containers, wheels, gas cylinders/bottles, vast amounts of polystyrene pieces, large quantities of both commercial and private fishing equipment and much more. This, of course, comes from all over the world.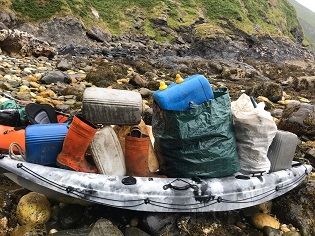 For us, it has simply not been an option to just turn a blind eye to the worrying state of pollution present in these difficult to access areas: a situation that is surely hazardous to the health of the environment, its wildlife and ultimately us all. 
For some time, now, we have set about looking to extract as much of this pollution (marine litter/debris) as we can, in our spare time, using mostly our own personal equipment, and in sometimes difficult conditions.
We do this by collecting and bagging it, loading it securely on and towing it out of these difficult to access areas by kayak (using manpower and, on occasion, improvised battery-powered motor/propeller system), and then disposing of it responsibly and, in some instances, reusing/recycling it once ashore.
Between us, we have cleaned up more than 20 full kayak (10ft/3m long) loads and numerous smaller loads of objects from these difficult to access areas at various locations around the Isle of Man this spring/summer. 
We are, to this point, mostly self-funded except for a few small items such as ventilation masks and litter-pickers that have been kindly donated by organisations.
Our resources are limited, but we aim to continue our efforts as long as those resources last, and hope our efforts are worthwhile in contributing to a much safer and healthier environment for all.
There have been occasions when we've had to transport away significant amounts of waste in our private vehicles due to a lack of suitable facilities at some kayak launch points, something which we are keen to find a solution to.
It is not an ideal situation but has not stopped us doing what we see as our bit for the environment, the wildlife and the Island we love. 
Clean-up contributors include Nick Kinna, Aimie Coole, Daz Brown, Sean Booth, Ellen Roberts, Ben Morgan and myself.
We are thankful to many others who have offered great personal support in other ways.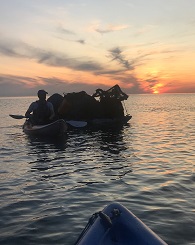 Posted up on 3rd September 2019