Primary school pupils have been getting creative for active travel at Victoria Road School.
A colourful mural depicting active travel in Castletown was officially opened at the school on Monday 20th March, marking the start of Sustrans Big Walk and Wheel 2023.
In the weeks prior, pupils at the school were tasked with creating a design that incorporates the themes of active travel and their local area, with a view to inspire the artistic mural at their on-site bike and scoot shed.
Approximately 90 designs were submitted from across the year groups. These were given to Clare Payne, Manx Wildlife Trust's Biosphere Artist in Residence, who picked out their common themes of: bright colours, rainbows, the sun, clouds, Castle Rushen and local wildlife; and brought them together into one engaging design for the shared space.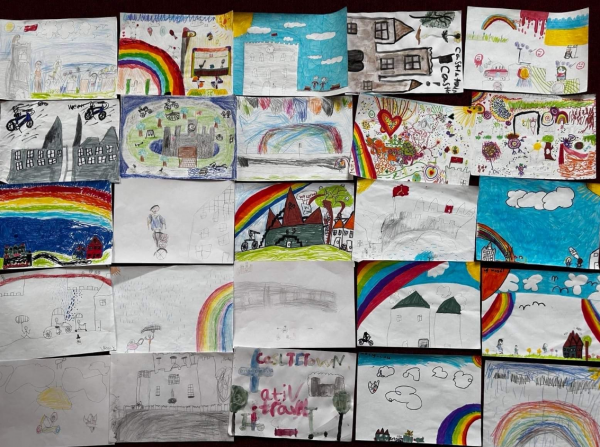 A collection of the pupils' designs for the mural
Clare set to work on painting the background and outlines of the mural, and five pupils from across the school were then invited to help Clare to paint the final touches and add their own drawings.
Clare said it was 'fascinating to work with the pupils and to see the way they use colour and perspective in their drawing, which is a really refreshing and new approach from the hyperrealism of my usual creative topics,' which largely focus on wildlife and the natural world.
Harry (Year 2), Oonagh (Year 3), Katie (Year 5) and Rhys and Joshan (Year 6) were the pupils who joined Clare for a painting session. They were very excited to contribute to the mural, and gave their thoughts on the process and the improvements to their scooter and bicycle storage space:
o It's a lot more colourful and beautiful
o The older pupils were excited to leave their mark on their school for future pupils to enjoy
o It makes their scooter and bicycle area a nicer, brighter place
o It's gorgeous and the colours really pop out
o They loved the process of designing and painting and they feel calmer when doing art
o It's a one-off opportunity to take part in something like this
They were joined by other pupils over the following week who added their own characters to the piece, walking, wheeling, cycling and scooting through the town and ensuring it was in shipshape condition ready for the launch.
The Big Walk and Wheel is a UK-wide active travel campaign managed by Sustrans, and running from 20th-31st March 2023, in which schools compete to log the highest number of pupils walking, wheeling, cycling and scooting to school.
Victoria Road School will be taking part in the competition, along with Ashley Hill, Ballacottier, Dhoon and Laxey, and over 2,700 schools across the UK.
Active travels aids wellbeing and sustainability, as well as connecting people with nature and reinforcing a sense of place. All of the Island's schools are celebrated Biosphere partners. 
MWT's Biosphere Artist in Residence is supported by the Isle of Man Arts Council.
Posted up on 24th March 2023