Marking World Migratory Bird Day (8th May), Louise Samson, Biodiversity Officer at the Department of Environment, Food and Agriculture, writes about a threatened species that has been stopping off in the Isle of Man in large numbers this spring.
This year has seen particularly high numbers of whimbrel moving through the Isle of Man, with more than 100 reported on the 29th April at Langness, Derbyhaven and Sandwick Area of Special Scientific Interest (ASSI).
Numbers have also been good at the Ayres National Nature Reserve. 
Whimbrel resemble a curlew, having a long, curled, beak but are slightly smaller and have a pale stripe between two dark stripes over their head.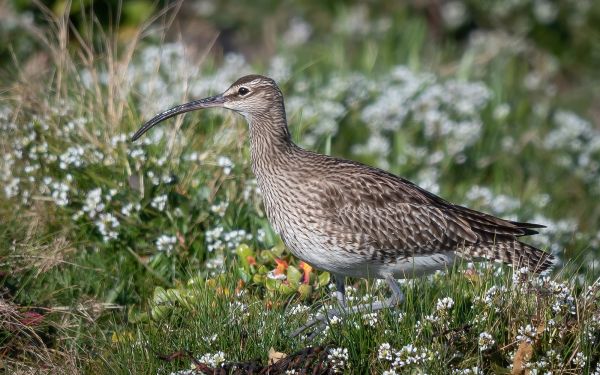 Whimbrel at Langness, Peter Christian
They winter on the north-west coast of Europe and Africa and are here en route to breeding in Iceland and Scandinavia. 
Like curlew, they are on the International Union for Conservation of Nature's red list, meaning that, due to severe declines in their populations, they are a priority for conservation action. 
In spring and autumn, the Isle of Man is an important re-fuelling and resting place for whimbrel, dunlin, sanderling and ringed plover on their migration journeys. 
These birds are best viewed from a distance with binoculars allowing them to continue with their feeding or resting. 
Peter Christian, who takes stunning images of birds, from a safe distance, captured these photos of whimbrel at Langness.
Posted up on 8th May 2021