UNESCO Biosphere Isle of Man visited Rushen Primary School to talk to pupils about the Isle of Man's Biosphere status and give them ideas about how to get involved. The pupils have send us this lovely follow-up article.
During the autumn term, Jo Overty, the Isle of Man UNESCO Biosphere project officer, was invited to visit Rushen Primary School to speak to Lewaigue class about the Isle of Man Biosphere.
She told us lots of interesting facts about the Isle of Man, biospheres, UNESCO and her job. 
It was whilst she was speaking, she interestingly told us that bats live in bat boxes hung up around the Island, peacefully sleeping in cosy, squished, spaces that are comfortable for them. She inspired us to make bat boxes, something we hadn't thought about before. 
Through Jo, arrangements were made for a representative of the Manx Bat Group to talk to us to learn more about bats and about our ambitions to make bat boxes. We thought we should help bats and make some bat boxes and hang them around the school field and on the tall trees.
At the beginning of the process of making the bat boxes, a small group from Lewaigue class would go into a large area to start to saw the wood to make the heavy bat boxes. Slowly, the process continued to make the heavy bat boxes.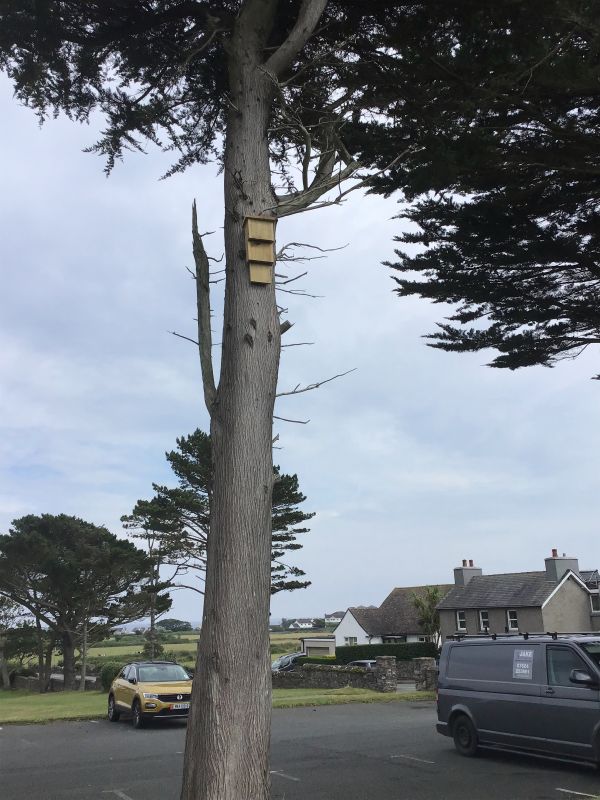 We would drill, saw and glue the wood with our teacher Mrs Higgins, so we did not make a mistake, until the bat boxes were all completely made. We had to be careful because we had to cut the wood with a saw with sharp blades. We worked together and used our keeping going muscle.
Once the bat boxes were complete our school caretaker, Mr Corlett, came to have a look at the bat boxes. He said that he would screw them onto the tallest trees on the school field facing east. We really enjoyed our bat box making journey and would like to thank Jo Overty and the Bat Group for introducing us to bat boxes, as well as the DEFA sawmill for donating the wood.
Lewaigue class at Rushen Primary School.
Posted up on 23rd July 2021