Our #CloserToNature series of blogs aims to keep us connected with nature this spring while staying at home. Keen athlete  Richard MacNee updates us on his 3 Pieces of Plastic (3POP) litter-picking initiative - and how his daily haul has not decreased, despite exercise restrictions.
Plastic bottles. Fast food packaging. Cotton buds. Sweet and crisp wrappers.
Depending where I am, these are the most common items that I have picked up on my walks, runs or bike rides on the trails, roads, paths and beaches that I visit around the Island.
Since I started 3 Pieces of Plastic two and a half years ago, I have found a whole range of items from fishing boat sacks to plastic combs, plastic toys to a car air filter, shampoo bottle to plastic crates. I still wonder why someone threw a shampoo bottle away on one of the mountain bike trails in Archallagan plantation.
Cotton buds are most prevalent on the beaches that I go to. It doesn't matter which beach: they are everywhere.
I pick up a lot of plastic bottles on the verges of the roads where I live. Presumably the majority of these are just being tossed out of car windows.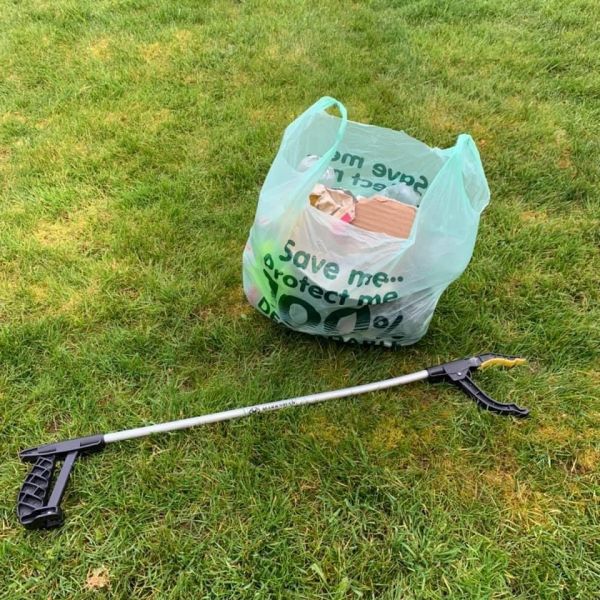 3POP out on patrol
Fast food packaging features highly at the beauty spot car parks such as Port Soderick glen, Marine Drive, Port Grenaugh and Chibbanagh plantation.
Unfortunately, sweet and crisp wrappers appear everywhere but noted hot spots are Noble's Park, the glens, plantations and along Marine Drive.
Whilst I am sorry for the people who work there, at least with the temporary closure of the fast food outlets over the last few weeks there has been none of that waste to clear up.
However, I have been dismayed how much litter of all types I have been finding as people take their daily exercise allowance. It was most disappointing to find two discarded car tyres on the Kewaigue to Port Soderick footpath by the old Fairy Bridge ford only this this morning before I sat down to write this.
On the positive side, my following on social media has grown and I know of a lot of people who are joining in and picking up their daily 3 pieces of plastic both on and off the Island.
I have plans to set up a running/walking litter pick event in Port Erin but these are on hold until the lockdown ends and we can all socialise again. Look out for further news about this later in the year.
Be careful how you pick up litter, use a litter-picker, wear gloves and thoroughly wash your hands when you get home.
Twitter @3popiom
Instagram @3popiom
Facebook @3popiom
Our interview with Richard in September 2018.
Posted up on 26th April 2020