Entries are invited for the UNESCO Biosphere Isle of Man Awards 2021.
The awards support the UNESCO Biosphere Isle of Man's aim of 'Working Together for a Sustainable Future'.
There are categories for Economy, Education, Energy, Enjoyment/Engagement and Environment.
Geoffrey Boot MHK, Minister for the Environment, Food and Agriculture, said: 'As a UNESCO Biosphere, we strive to create a sustainable future for us all.
'There are projects and initiatives happening right across our community that help us to live and work sustainably and educate others to do the same.
'Our awards offer these organisations and individuals the chance to share their successes and to encourage and inspire others.
'The awards will be a celebration of those contributing to a sustainable future in our Biosphere.'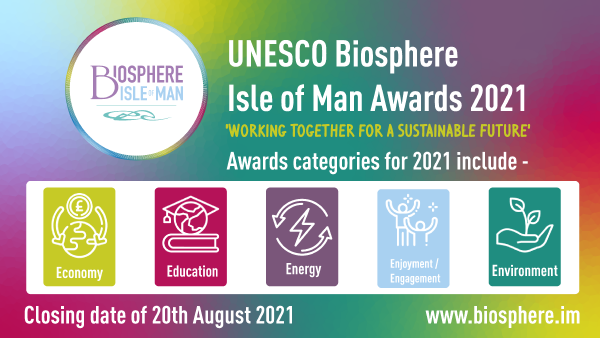 It is free and easy to enter the awards.
Entrants should give an overview of their project or initiative and detail what it is achieving.
The awards will be judged by a 12-strong panel from the public, private and third sectors. It will take into account entries' innovation and impact.
Enter online (preferred) here.
A hard copy form can be downloaded from www.gov.im/biosphereawards and should be returned to:
UNESCO Biosphere Isle of Man Awards, Department of Environment, Food and Agriculture, Thie Slieau Whallian, Foxdale Road, St John's, Isle of Man, IM4 3AS or scanned and emailed to biosphere@gov.im - marking the subject field 'UNESCO Biosphere Isle of Man Awards'.
Entries can be accompanied by up to three photos, but this is not essential.
The closing date for entries is Friday 20th August 2021 and results will be announced at an awards ceremony in October.
The winners will receive beautiful trophies, hand-carved from salvaged wood by a local craftsman.
They will benefit from publicity and will be able to use a special award-winners' logo on their websites and social media channels, demonstrating their commitment to a sustainable Isle of Man.
They will also feature in the promotional video for next year's awards.
Please look at the website for the full rules of the awards.
If you have questions about the awards, email biosphere@gov.im or ring 01624 686080.
The awards were not held in 2020 because of Covid-19. A video about the 2019 award-winners and details of how to enter in 2021 can be seen here.
The categories in more detail:
Economy: please enter projects and initiatives that have contributed to our UNESCO Biosphere's economy in a sustainable way
Education: please enter projects and initiatives that educate and inform people about sustainable living in our UNESCO Biosphere
Energy: please enter projects that promote greener energy usage and energy saving, in line with our UNESCO Biosphere's climate change commitment
Enjoyment/Engagement: please enter projects and initiatives that contribute to enjoying and getting involved with our UNESCO Biosphere
Environment: please enter project and initiatives that conserve and enhance the natural and built environment of our UNESCO Biosphere.
Posted up on 13th July 2021