Katie Garrett, of Onchan, has made a powerful documentary about marine plastic pollution for her final-year project at Leeds Beckett University.
Katie has been studying journalism and is pursuing a career as a broadcast journalist.
Instead of a dissertation, she was required to submit a practical piece of work and chose to make the 15-minute documentary, 'Tackling Britain's Plastic Beaches'.
Katie says her choice of topic was heavily influenced by the fact she is from a UNESCO Biosphere that boasts clean beaches.
We asked her about her project, how she overcame Covid-19 restrictions to complete it – and about how the Isle of Man's cross-community efforts to reduce marine plastic inspired her.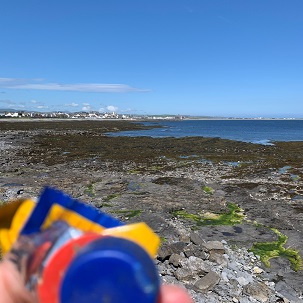 3 Pieces of Plastic's collection at Scarlett 
She features the pioneering work of two Isle of Man clean-up charities, Beach Buddies Isle of Man and 3 Pieces of Plastic, and interviews their founders, Bill Dale BEM and Richard MacNee.
Katie says: 'On the Isle of Man we are just a small island and a little bit of plastic – you can't miss it. So seeing and hearing how important it is for Bill and Richard, and the changes they have made over the years, was just incredibly inspiring.
'I think you can see in the Isle of Man how clean our beaches are. We are incredibly lucky.'
Katie adds: 'We need to keep the discussion about plastic pollution in the news because it is as important as ever.'
For the documentary, Katie also joins a beach clean with the Marine Conservation Society in Scarborough, North Yorkshire.
Katie's documentary can be viewed here
Watch Katie's full interview with us here
Posted up on 24th June 2020