A major exhibition has opened marking the centenary of the Manx Museum (Thie Tashtee Vannin).
MUSEUM 100 has been 18 months in the planning and features a kaleidoscope of over 150 objects and treasures from the Manx Museum's collections, many of which are on public display for the first time.
Highlights include the oldest surviving Manx registered motor vehicle, the first piece of Viking treasure ever collected by the Manx Museum and a magnificent Bryan Kneale mural. 
Katie King, MUSEUM 100 exhibition curator, explains: 'The Manx Museum is home to an extraordinary collection of artefacts and archives that help tell the story of the Isle of Man and its people. Our national collections have grown over 100 years and reflect 10,000 years of our Island's cultural heritage. They reveal stories about who we are as a nation and provide a constant source of inspiration and pride for each new generation. 
'But if we look back some 150 years things were very different. It is hard to believe now, but there was a time when some Manx people felt their own history was so insignificant that the idea of a national museum was mocked? Surely, they said, there could be nothing of cultural significance to fill even one small room?'
A 'tenacious band of patriots' determined to research and protect the heritage of the Isle of Man, led by scholar Philip Moore Callow Kermode recognised the need was urgent. Farmers were using the Island's medieval stone cross-slabs to fill gaps in hedges and builders sent a Viking treasure hoard to the tip. Manx cultural assets were sitting in British national museums.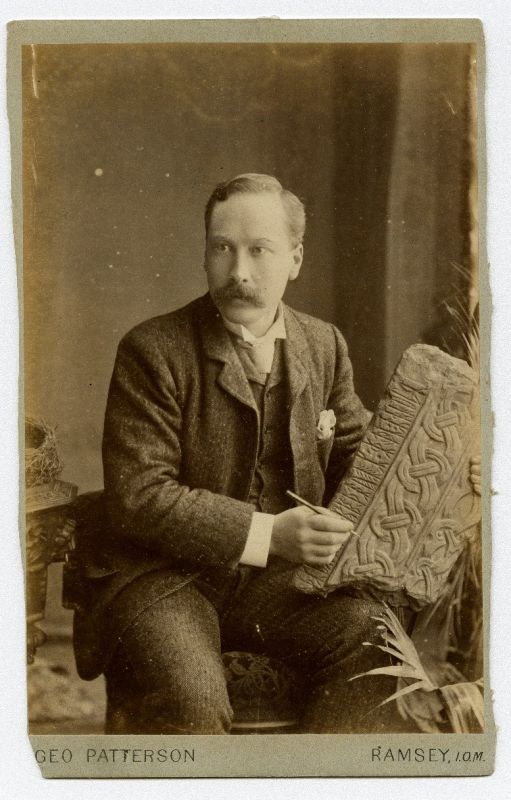 PMC Kermode (Manx National Heritage)
These scholars devoted themselves to rescuing and explaining the Island's heritage. Their work uncovered such astounding artefacts that people started to take notice. An Act of Tynwald established the Museum & Ancient Monuments Trustees in 1886. 
The Trustees mission was to preserve the Isle of Man's cultural heritage and to build a national museum. Gathering a collection of significant artefacts proved straight forward enough, but finding a permanent home for the collection was a 30-year struggle. Philip Kermode again led the charge and on 2 November 1922 the Manx Museum was finally opened, in the former Noble's Hospital building, which was gifted to the Manx Museum & Ancient Monument Trustees by the Henry Bloom Noble Charitable Trustees.
The Manx Museum was officially opened on 2 November 1922 by Lieutenant Governor Fry. In his opening speech he remarked: 'One hour spent in a museum will be worth, many hours spent in a book.'
'Their dream had been realised; the people of the Isle of Man had their treasure house,' Katie said. 'When the Manx Museum first opened in 1922 this was a revolutionary approach. While museums across the water were collecting antiquities and curios from far-off lands, the Manx Museum was collecting everyday objects belonging to ordinary people.
'Manx National Heritage still follows the same fundamental principle of capturing the stories of the people of the Isle of Man told through their possessions and keeping them safe for the future. The collections include library and archives, art, archaeology, clothing and textiles, furniture, natural history and social history. Our role is to preserve and make accessible these treasures for future generations - for you, your children and your grandchildren.'
Running alongside the exhibition is a specially commissioned family audio adventure.
'MISSON 100 – SAVE THE STORIES' has been created for Manx National Heritage by children's theatre specialists Hello Little People. The audio adventure will take visitors on an immersive experience around the museum galleries as participants take on the role of Agent 100.
MUSEUM 100 runs until October 2023. The Manx Museum is open daily from 9:30am to 4:30pm and admission is free.
Posted up on 22nd October 2022