Our #CloserToNature series of blogs keeps us connected with nature this spring and summer while we stay at home. Ecologist Dr Philippa Tomlinson considers the history of the plant species in her garden - and roots out the natives from the alien invaders:
We are very lucky to have a large garden which we have managed mainly for wildlife for over 25 years.
The previous occupants were very keen gardeners and planted many trees and shrubs but by the time we took it over it was very overgrown. We found ourselves doing quite a bit of cutting back and thinning out in the winter months. I realised that the advantages of a wildlife garden to us humans is that in the summer months sitting in a deckchair in the sun is the best thing to do and of course observing the wildlife around us. But there is a lot of late summer and winter work!
Recently, staying at home, we decided to make a list of the plant species in the garden. This was prompted by the BSBI Garden Wildflower Hunt. 
So I'm not going to write here about the issues of coping with spreading brambles (when to stop them!) or how to create a wildflower meadow (hard work making hay) or the debates we have had about a particular elm tree which grew up from a sucker in the middle of the garden and nearly got the cop, but didn't, and now is an amazing specimen but gives too much shade (much argument) and how much lawn to keep  for ball games as well as the worm-eating birds.
Like nature herself, it is all a matter of balance and for us, who are an important part of the cycle, there are many decisions to make.
No, I want to tell you about our recent discussion, which may sound a bit xenophobic, but is of interest to botanists and archaeologists alike: that is, the history of how plant species arrived here and why. As someone who loves wildlife, I am interested in 'native' species but not so happy about some of those 'aliens'.
A plant that arrived here through natural processes of seed dispersal when the climate warmed up after the last ice age is described as native. These species form our natural habitats in woods and heaths and coastal grasslands.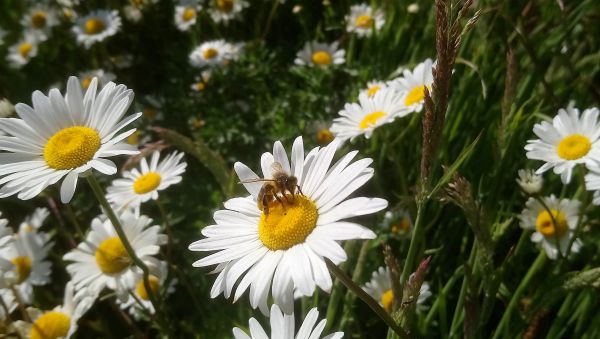 Honey bee with pollen on its legs feeding on ox-eye daisy (Bastag vane  or Neaynin mooar) 
When the first humans arrived on the Island, they surely brought useful plants with them. We think maybe hazel arrived this way.
Later, people brought all sorts of crop species and with them came associated weeds. Many of these weeds are part of our landscape today such as the yellow corn marigold and red poppies which still turn up in ploughed fields and oxe-eye daisy which is prolific around us this year (see pictures). 
Some stayed but others, like corn cockle, did not survive modern farming methods. Other species are described as archaeophytes. These are flowers, herbs or food plants which escaped into semi-natural habitats such as woods and road verges and integrated themselves into the landscape.  For a botanists like me it is fun to spot these naturalised species and try to figure out how and why they got here. Some are now rare and need protection like dyers greenweed (a source of yellow dye for cloth, used by the Vikings), which grows in a couple of places near Ramsey. It could be native.
In urban areas, there are often plants that turn up and grow just for a year or two. They have come from far away and cannot survive here for long. The bird-seed aliens are another fun group; you might be surprised to find hemp growing by your bird table. But it's the ones that are invasive and swamp the wild species that are so problematic. Around us there is Alexanders, a true archaeophyte, with many food and medicinal uses but aggressively spreading in our nutrient enriched hedgerows near the sea, swamping out the delicate native flowers like primrose and harebell.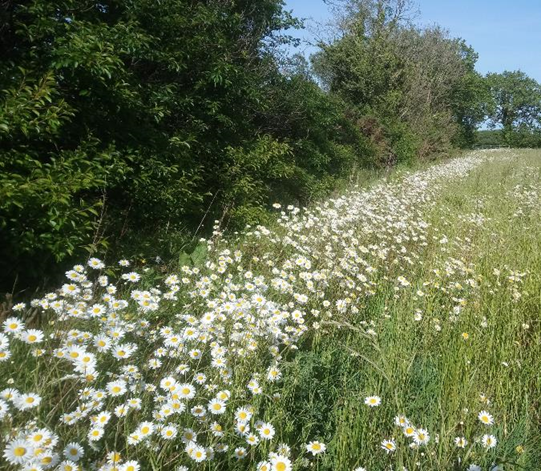 Ox-eye daisy flowering in profusion where deeper ploughing has brought up long-buried seed
Native species can be invasive, too, especially if the ground has been disturbed by agriculture or gardening which brings me back to the brambles, ivy and bindweed in my garden. I want to have a good amount but they will take over if I let them.
Wood-rush a lovely wild plant with delicate flowers arrived on its own by our front door. I have let it spread, it makes great ground cover, but it may well take over…
The Garden Wildflower Hunt is just for native and naturalised species, but maybe we will do a list of everything, even the humble potato, because they all have their own historical interest…. Yes, even the dreaded Italian arum, with which I really do have a problem (I nearly poisoned myself. I rashly  tasted a tiny bit and my tongue went on fire) and the ground elder which we decided to embrace because we will never rid of it. All will be listed and categorised in one way or another.
Dr Philippa Tomlinson, who lives on the northern plain, probably because it is like her native Norfolk, is the author of this blog, which may be the first of several with the title 'Notes from a Wildlife Garden'.
Posted up on 31st May 2020