As the visitor season begins in earnest, for this month's Partner Profile we visit the new premises of Island Escapes and speak with founder and director John Keggin.
April has certainly been an exciting month for Manx holiday letting agency, Island Escapes.
With all travel restrictions now lifted, visitors have once again begun to venture across the Irish Sea to explore our beautiful Biosphere.
Holidaymakers are keen to discover everything the island has to offer; bookings and enquiries have been rolling in with people trying to find that perfect holiday destination.
John says the flurry of new guests to the Island has been a wonderful sight.
There have been quite a few challenges to overcome over the last two years, but it has been great to finally emerge out of the other side of the pandemic and begin to see a positive flourish within tourism again.
Alongside the Island opening up again, Island Escapes has been excited to open its new office in the heart of Castletown, meaning it is now easier than ever before to discover everything there is to know about Island Escapes and the great places to stay.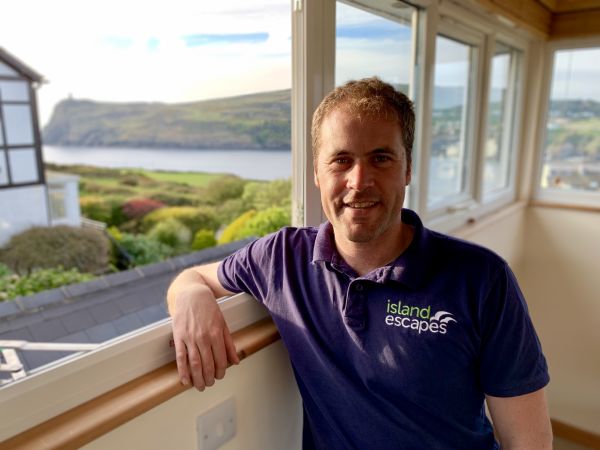 'Having a shop front means that we now have the option to offer a friendly face to face service if people wish, rather than purely online,' John says. 'Holidaymakers can pop in and chat, and we are now able to offer a more personal service in the beautiful setting of Castletown. Already we have seen an excellent response from both locals and visitors to our sympathetically restored Victorian terrace in the heart of Castletown.'
Proud to be a Partner of UNESCO Biosphere Isle of Man, it is incredibly important to Island Escapes that they present the Island in the best way possible to guests.
Guests arrive at Island Escapes properties to a complimentary welcome pack which includes a range of local goodies along with a guide which supports local businesses. The team are always on hand to recommend great places to visit and activities to do during their stay. Whether it's a restaurant recommendation, outdoor activities, ideas for families or local events, the team are always happy to help.
John says: 'We are also now in a strong position to support the environment and sustainability. We use local suppliers wherever possible and use environmentally friendly cleaning products at our properties and encourage our property owners to do the same.
'We are also a Refill Station, part of the Refill Isle of Man scheme run by UNESCO Biosphere Isle of Man, filling up reusable bottles and contributing to reducing plastic pollution.'
Last year, Island Escapes was able to make a generous contribution to Manx Wildlife Trust, having introduced an optional £3 donation for guests every time they book.
'The response to this donation has been positive and we are extremely proud to be able to offer any support we can to this invaluable charity, and will continue to do so well into the future,' John says.
Island Escapes' holiday lets range from traditional, cosy Manx cottages to luxurious and contemporary living spaces so there's always something for everyone, and options to suit every budget.
'We look forward to the year to come and watching the Manx tourism industry in our Biosphere thrive again once more,' John says.
Posted up on 18th April 2022